Just a quick post to let you know that we are still alive here. It's been a busy couple of weeks. I spent six days in Las Vegas (an awful long time to be in Vegas by anybody's standards) at Photoshop World. I learned so much, got to see some very cool gear/software/gadgets, and hear some of the best designers and photographers talk about their craft. It was fantastic.  Las Vegas is a feast for the camera but 6 days is a long time in an environment of constant 24/7 stimulation!
Here's a pic from my last full day.  It was taken on Las Vegas Boulevard (aka The Strip) about 30 minutes out of town.  I always wanted to take a photo from the middle of the strip.. hehe.  There are loads more photos from the trip on flickr.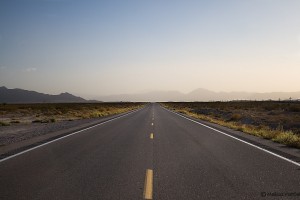 Two hours after touching back down in Vancouver, my new yellow lab pup, Sam, came home. We're thinking of making him the official mascot of Fine Lime. Hehe. He's now almost 10 weeks old, had his first emergency vet visit and seems to have doubled in size already. He's a handful but awful cute.
Victor and I took in our first regular season Canucks game last week again against Montreal and are pleased to report that the Canucks remain undefeated when we're in attendance.
And Luke is off to Henry's Photo and Digital Imaging Show this weekend in Toronto to check out all the latest in Digital Photography and Video.  I'm jealous but I guess I got my trip to Photoshop World so it's his turn now 🙂
That's it for now.  I'll be back soon with a post on "just saying no".