One of the biggest struggles I have as an entrepreneur is trying to marry my creative side with business sense. So I'm always fascinated and curious by others doing the same. How do they do it? So, for our first entrepreneur profile, I interviewed Liam Axe, an aspiring author.  I personally know Liam more for his fantastic comic book drawing skills. But for this interview the  focus was on his writing career. Enjoy getting to know Liam!
FLD: You're in the midst of writing a novel. Tell us how that came about.
LA: The novel is based on a play I wrote a few years ago – I enjoyed the experience of writing and producing for the stage, but wasn't 100% satisfied with the end result from a creative standpoint, mainly because I don't really enjoy that kind of collaboration when it comes to my stories… I'm a bit selfish that way, I guess! Since then, the story has sort of buzzed away in the back of my brain, refusing to go away – so I decided to get it out of my system completely, in a format that I had more direct control over, so that it would be my own vision, and if it turned out to be a pile of garbage, I only had myself to blame!
FLD:  After writing your play, Who Will Mourn Maggie Brown?, tell us the process you went through to actually get it staged.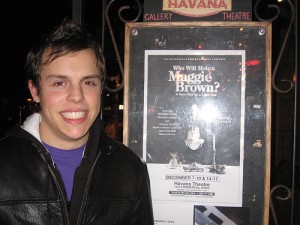 LA: The process I went through was probably not the "correct" one (if there is such a thing) – I had no idea what I was doing, really, and there are definitely things I would do differently if I was going to do it all again.  But it was a great learning experience, which is the most important thing I suppose.
The first thing I did was book the venue – theatres get booked very far in advance, so I started looking into it about a year before the run.  The next step was finding a director and stage manager – the director was a customer at the coffee shop I worked at, who was a local actor and playwright.  We then started the casting and rehearsal process, which was very disorganised and a bit of a nightmare (one of the things I would change if I had a second chance!) A couple of months before the run, we sorted out publicity, posters and flyers and things, and arranged for tickets to be sold online, and in the final two weeks of rehearsals we built the set and bought all the costumes and props and arranged a whole bunch of last minute details which we should have sorted out months beforehand!
It was all very chaotic, but good fun.
FLD:  From a business perspective, what was your biggest challenge bringing "Maggie" to the stage and how did you tackle it?
LA: I suppose money was the biggest challenge for me.  I've never been great at managing finances, so creating a budget and sticking to it was definitely not easy.  Looking back, it would have been worth getting an extra person in to oversee the budget and crack the whip when necessary.
FLD:  What was the most satisfying part of the whole process?
LA: Opening night.  Having people who I'd never met before turn up off the street to watch the play and overhearing them as they talked about it at intermission.  Best feeling ever.
FLD:  You've handled both sides of putting a production out – the creative part and the business side.  Which is harder?
LA: I'd say they're equally difficult, but in different ways.  Creative collaboration was a big problem for me at the time – I think I've gotten a bit better at it since then.  And as I said before, I don't really have a head for finances, so that was a big challenge too.
FLD:  If you were launching the stage production of Maggie Brown today, would you use avenues like Facebook, twitter, the web to promote it?
LA: Absolutely.  They're free, easy to use, and much more effective than print advertising, in my opinion.
FLD:  Do you foresee a day when you will be able to work solely on your own projects without having to hold down a "day" job and do you have a plan to get there?
LA: That would be nice.  Luckily I have a job that I quite enjoy now (I work in TV) so it's not a huge pain, but it would be lovely if I could support myself exclusively through writing.  No specific plan though, other than continuing to write and submit stuff, and hope that I'll eventually get lucky.
FLD:  Working in any kind of creative field often means dealing with a lot of rejection.  How do you handle it and keep positive?
LA: It doesn't really bug me that much.  Every writer will tell you about the stack of rejection letters that they got before making it big.  I've got mine in a folder under my bed.  It was actually kind of exciting getting my first one – it made me feel like a real writer for some reason.
FLD:  If you could give one piece of advice to people starting out trying to make a living from their art, what would it be?
LA: Don't do it to make money.  Don't think of it as a business.  Do it because you love it, stick with it for as long as you love it, and anything else is just gravy.
FLD:  What's the best piece of business advice you've ever been given?
LA: I haven't really been given any!
FLD:  What do you see in the pipeline after you've written the novel and do you have any other projects in the works?
LA: More stories… a children's novel.  I'll just keep writing stuff until it's not fun anymore!
Fast Five
1. What do you do when you need a good burst of inspiration?
Go for a walk.  Cliché, but it works for me.
2. Best spot for you to think?
In bed, under the covers.
3. Do you keep a sketchbook/journal/idea book to collect ideas?
Multiple journals, for various types of ideas.  I'm a bit OCD about it.
4. Mentor?
Not yet.  Would be nice.
5. Guilty pleasure to relax?
Judge Judy.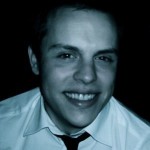 ****Liam Axe is an aspiring author who wrote and produced "Who Will Mourn Maggie Brown?"  which was first staged in Vancouver, BC.

He currently works as a Researcher for the BBC in Cardiff, UK.  Past television credits include "Merlin: Secrets and Magic", "Hamlet", "The One Show" and "Antiques Roadshow"
In his spare time, Liam enjoys reading comic books, travelling and thinking about stuff.