Fridays come and go so fast!  I can't believe it's time for another Friday Few.
I don't have a lot this week.  I'm working on a series of posts aimed at making the web a friendlier place for a lot of us creatives running our own businesses and hilighting some of the great marketing opportunities that are available to us.
the advent calendar is everywhere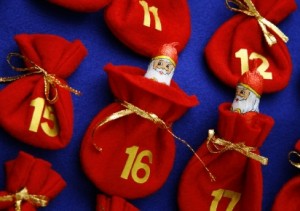 One thing I've noticed this Christmas is the proliferation of the advent calendar as a marketing tool. Everyone seems to be using the idea in some form or other, from The Bay, to sitepoint.com to CBC Radio 2's The Drive. And when you think about it, it's a great idea. Something new every day to keep your customers, fans, or listeners coming back every day at one of the busiest times of the year.  But, as great an idea as it is, (and I have been sucked in more than once by the Sitepoint deals this year), it is also one that can fill your customer's inbox up with an overflow of emails.  I think the trick is finding a balance between creative marketing that keeps you top of mind with your clients but that doesn't bombard them.  When done right, it's a good example of how to creatively market to your target audience.
speaking of sitepoint…
As I mentioned earlier, I got sucked in more than once this month by the sitepoint deals. As a little bonus with one of the items I wanted, I got a copy of Online Marketing Inside Out.  I already have a copy of this useful, very easy to read little book that's full of tips.  I'm thinking of maybe running a little on-line give away for a lucky blog reader to get a free copy.  I need to think of a good idea first.  Stay tuned…
and just because it makes me happy!
This has nothing to do with anything but it's Friday and it is the Friday Few. The UPS driver dropped off my Christmas present to me on Wednesday: a 27 inch iMac. It's beautiful and, I have to confess, it's my first Mac and it makes me awfully happy.  As much as I'm a big believer that the latest gadget can't replace creative vision especially if there isn't any to being with… sometimes a new shiny tool is so cool! hee hee! I can already see that that big screen is going to make workflows in Adobe so much easier!
Have a great weekend everybody!