Well, I have been hinting for a while now that some changes were on the way for Fine Lime and now I'm very excited that I can finally share!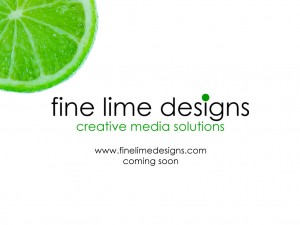 I started doing freelance work about two and a half years ago but, being fully employed elsewhere, I never had the time to actively search out new gigs for myself.  Everything I did came through word of mouth until it got to the point where I didn't have enough hours in the day to take on any more extra work.
I was faced with an issue that I think hits a lot of us who moonlight.  We're not earning enough with our freelance work to quit our day job but… we can't increase our freelance income without finding more hours in the day or quitting our 'real' job.  It's a Catch-22.
Last April, I formally brought Fine Lime Designs to life as my little baby.  My goal was to switch to it full-time last June but when the time came to make my decision, my brain said go and my gut said no.  It just didn't feel right.  Looking back on the past six months, I listened to the right body organ! Hehe.
Fast forward to September and things were starting to turn and signs started to show themselves.  Slowly… very slowly at first.  But when November rolled around, things sped up.  A friend's personal journey, my trip to Toronto, a family health issue – all gave me reason to think.
So, while my brain is concerned about the economy, my gut is screaming, "DO IT!!!".  I don't expect it to be easy on any front but… I know in my heart that it's time.
So, as of January 18th, I report to a brand new employer: ME!
I'm a little scared – I can be a cranky cow sometimes, a perfectionist, and I expect the best!  Plus, it will be a big adjustment to go from working in a busy office to mostly working from home on my own.  But I'm also incredibly excited.  To be able to devote my working hours to something that is all mine has been my goal for the last 12 years.   And I'm also thrilled that this means that all of us at Fine Lime can start working on some new projects that until now, were just not possible because of time constraints.  More will be coming on those in the following months.
But in the meantime, it's full steam ahead – and it's so exciting!