Things got crazy this week and I wasn't able to get a Friday Few up for y'all so I'm doing a Monday Mix instead!  It's good to keep everyone on their toes I suppose…
liam update!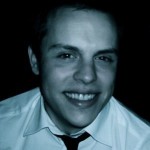 You may remember that a few weeks back we did an interview with playwright Liam Axe. I'm feeling pretty chuffed for him because the Bristol Old Vic theatre in Bristol, UK is doing a rehearsed reading of his play Who Will Mourn Maggie Brown on January 30th. If you're in Bristol (and I know some of my relatives are… ahem…) you might want to check it out. Tickets are 4 pounds and include a performance of another play as well. A bargain I'd say. And… go Liam! Congrats!
working for the woman
Today marks the first day of working entirely for myself. And actually, it's been way busier than I expected it to be! And a lot quieter. I miss my old co-workers but I like being able to take my dog for a long walk at lunch in the sunshine. Clears the cobwebs. I miss Starbucks too – way more than I'd like to admit. Hehe.
artists on-line

Artists On-Line – that's the very original name for our upcoming series for creative types trying to understand how the on-line universe can help them make a living from their art.  I hope that it is informative and helpful for lots of you and answers some of your most nagging questions.  We'll be covering websites, portfolios,  blogs, on-line community involvement, social media like Twitter, Facebook and even LinkedIn and more traditional topics like branding and logo design – which will fit into your overall web presence.  If you have suggestions for things you'd like to see covered, please feel free to add them in the comments or drop me a line from our contact page where you can fill out the form or email us directly.
That's it for this update!  I'll be back later in the week with more goodies!