Today's Friday Few is a little different.  I don't have a "few"… just one!  The 2010 Winter Olympics start tonight and as much as I always enjoy the Olympics, this  year it's different.  This year, it's in my hometown and we've been counting down for years for this!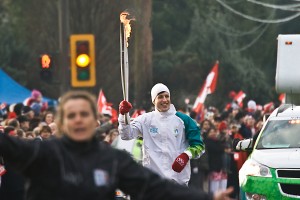 Earlier in the week I had the chance to see the Olympic Torch relay run down my block.  Up till that point I had been mildly interested but the relay brought it all home and got me pumped.  It was fantastic.  There were so many people out in their red and white Canada gear, their Olympic mittens, waving their maple leaf flags and cheering the torchbearers on.
The relay is the longest ever put on inside a host country (I wonder if Russia will beat that at the next Olympics! They're the only country bigger than Canada…).  It's taken 106 days, with 12,000 torchbearers running, walking, wheeling, paddling (yes, even in a canoe) 45,000kms.  90% of Canada's population will be within a one hour drive of some part of the relay route – that is a remarkable achievement given how spread out this country is.
You can see my photo set of my neighbourhood's little piece of the relay here on flickr.  But I think the great big grin on the fellow I snapped, says it all!
I know that most people here will be doing precious little but soaking up the atmosphere in the city, and I know I'll be doing the same.  I can't wait.  And I hope all of you who've never been to Canada, or even heard of Vancouver before this, will enjoy seeing a glimpse of my beautiful city for a few weeks!
May the Games begin!