I'm starting to freak out a little bit at how quickly 2010 seems to be flying past – only one more work week left in February! There has been so much going on, both here at Fine Lime and in the city with the 2010 Olympics, that time seems to be disappearing at an alarming rate.
olympic madness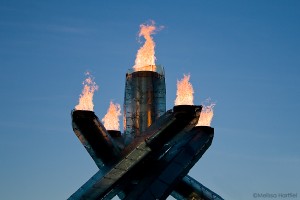 I've managed to spend two days downtown, taking in the Olympic sites and sounds and I gotta say, what a great party! I have never seen this city so full of happy people in good spirits, having a great time. It's great to see in this city that often gets branded as being "no fun".
My biggest highlight (out of so many) was standing on Robson Street during a Canadian Mens' hockey game. A low rumble started up in the distance – at first I thought it was a jet engine. But it quickly picked up steam and rolled through the city like a wave – it was the crowds cheering as the men scored their first goal. It sent chills up my spine! What an amazing thing to experience.
Now if they would just do something about that ridiculous torch fence… and by do something, I mean take it right down!!
but there's still work to be done!
We've been working with some great clients the last couple of weeks and we're in the process of wrapping up a new design for an existing site in the next week for one of them so that's a good feeling.
Tonight I'm off to do a really funky shoot for Guided Discovery and after doing some test shots with them last night, I think our idea might actually fly! I hope I can show you all next week.
That's it for this week – hope you all have a great weekend!