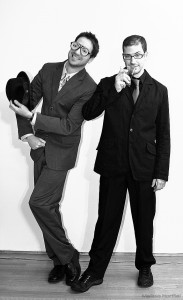 Last week I was asked to do a shoot for a friend who owns Guided Discovery.  He was hosting an unusual boys night pub crawl – one where all the fellows were dressing up in their best suits and hats and hitting downtown Vancouver in the midst of Olympic madness.
Ummmm… how could I resist??  Hehe.  I didn't go out on the crawl itself, I just met up with a small group of the guys before they left and let the shutter click.  The lighting conditions were horrible but we didn't let that deter us – the boys came up with their own poses and found props in the kitchen.  All I really did was capture their escapades on film (so to speak!).
So thanks to Mat, Chad and Scott for letting me be the lone girl in the pre-crawl festivities – I had a great time!
You can check out the full set of finished images in the Suited Up set on flickr.