Every now and then we like to profile other small businesses or freelance operations in the hopes of passing on some wisdom from somebody who's been there, giving you a little inspiration and just because we're always curious how others manage to balance a business and a life.
This time around we talk to Jill Neale, a private Orton Gillingham tutor who's been out on her own for seven years, about how she got started, how she balances work with family life and what keeps her inspired.  And as side note, I love her answer to the one lesson she wishes all small business owners knew starting out!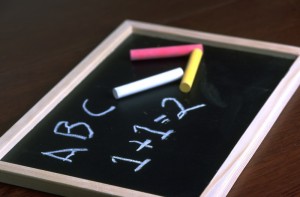 FLD: You're an Orton Gillingham tutor – tell us a bit about what that is?
JN: The Orton Gillingham approach (O-G) is a multisensory way of teaching kids to read and spell. You start with basic sounds and then build on what the student learns. I try to keep it as entertaining as possible with lots of games and a fun atmosphere.  I have also branched out into tutoring Multisensory Math – a method that actually shows the student how math works, and I also tutor academics for high school students. The majority of the students I work with are dyslexic or have processing difficulties. Although many other students just need the curriculum put into other terms for clearer understanding.
FLD: What made you decide to go out on your own and how long has it been?
JN: I have been tutoring students from grade 1-12 for 8 years and have been independently employed for 7 of those years. Before I went out on my own, I was working as a substitute Special Education Aide for the North Vancouver School District and was also employed by another tutor who owned a tutoring company from her home. When the district faced some major budget shortfalls, I knew I needed to take more control of my employment.  I enjoyed the one to one tutoring, but wanted more control over the situation I was in so I quit both jobs and went out on my own.
FLD: What has proven to be your biggest challenge, business wise, and how do/did you tackle it?
JN: My biggest challenge has been balancing the schedule so my kids and my students get the most from me. I want to be the mom who takes her kids on play dates and bakes cookies with them, but also am financially independent and good at my job. It's a constant challenge that I deal with on a daily basis. Not sure if I'll ever overcome that one!
FLD: What has been your biggest reward?
JN: My biggest reward-this one is easy! My ego box! I have a box of cards and notes that I have received over the years from different families thanking me for how much I've changed their child's life. It such an amazing feeling watching a student go from barely being able to read their own name (yes, there are kids out there that still struggle with this at age 9) to reading a book and knowing that I was the one that helped them get there.  This is why I do this job.
FLD: You have a family with two very small children – how do you balance family with work – especially when you work from home?  How do you keep kiddie distractions from taking over?
JN: Multi-tasking is the only way I can survive. It is not uncommon for me to be sitting in the bathroom coaxing one child to go potty, nursing the other child, and discussing a student's progress with a mom on the phone. Fortunately, I work with some amazing families that totally understand my situation.
FLD: if there is one lesson you've learned since going out on your own that you felt all new business owners should know, what would it be?
JN: Originally when I read this question, the first thing that popped in my head was to be organized. But the more I thought about it; the best lesson is for new business owner is to stick up for yourself.  In a larger company there is always someone higher than you that can "take care" of any problem. When its just you, you need to make sure that you have control over everything and that people listen to you.
FLD: Thinking about your plans when you first started, and then thinking about where you're at now, did you follow your original business plan?
JN: For the most part, I have stuck with my original plan and ideals. I have found getting clients to be easier than expected, but that's probably because I stuck with my conscience.  I would love to one day open a real office and have others work for me, but for now, I'm pretty happy the way things are.
FLD: Running your own small business can be lonely at times – especially when working from home – do you make a conscious effort to get out and network?
JN: Luckily, my job is anything BUT lonely.  True, there isn't an office Christmas party, but I have been made a part of so many families of the kids I tutor. The support I received from clients during my pregnancies was amazing. Even after the students have graduated, I still keep in contact with many families.
FLD: How do you keep your professional development up?
JN: I try to attend O-G tutors meetings when I can. Since the births of the kids, I admittedly have slacked off attending conferences. But that's all part of the balance, choosing my kids as often as I can and putting work on hold.
FLD: Do you think you could ever go back to working for somebody else?
JN: NO I would never work for someone else again….unless there really was no choice….
the fast five
1. What do you do when you need a good burst of inspiration?
Look to the kids – my own and my students!
2. Best spot for you to think?
My car
3. Do you keep a sketchbook/journal/idea book to collect ideas?
Scribbled notes stuck all over my office
4. Mentor?
Tammie – an amazing tutor that I can bounce ideas off of
5. Guilty pleasure to relax?
Ice Cream and reality TV
****Jill Neale runs a successful tutoring business specializing in the Orton Gillingham approach.
She works out of North Vancouver, BC, where she also lives with her husband, Brian, and their two young children