I am soooo ready for Friday this week but at least it was a productive week.
This week we have some client news and some great design odds and ends to share for those of you who use Photoshop or for those of you who can never find the exact right font for your projects.  So…
client stuff
We finished off a cool project designing some invitations to a fancy party for a client that was so fun to work with. We don't often get to do invites but they're a heap of fun. Hope the party is as fun!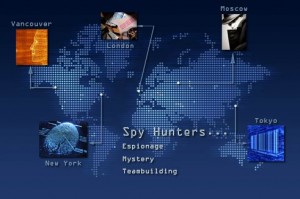 We also did some site updating and a fun graphics piece for Guided Discovery to help them launch their new Spy Hunters team building program. I wish we had a bigger team here so we could do it because it looks so fun! Lots of high tech gadgetry, geocaching and puzzles – be sure to check it out!
duh…! a photoshop realization
I can't believe I have been using Photoshop this long and never discovered this little trick that just made my life about 100x easier. Many of you probably already know about it but for those of you who don't (and until 2 hours ago, I didn't!), I'll share. For years I've been grumbling about the font preview in PS being so ridiculously small that there is no way to know if a font will work until you actually try it. Why can't they make it BIGGER????
Ummm… well… ahem… cough… it appears they did. Yup. And here is how you can too…
Mac: click on Photoshop at the top, select Prefereces > Type and then where you see the Font Preview Size, select a bigger size (I'm using Huge – I love it!)
PC: same as above except you will find Preferences under the Edit tab, right down at the bottom.
I am so happy it's a bit ridiculous – not to mention feeling a bit foolish I didn't discover this earlier!
speaking of fonts…
Another one of my favourite blogs is Nick La's Web Designer Wall. Nick is a great resource for all kinds of design tips and does great tutorials – mainly aimed at Web Designers. This week he had a great post courtesy of fonts2u with 30 fantastic free fonts available to download. These were all great and I can think of some uses for 4 or 5 of them already. If you're always looking for some new fonts, this is a good one to check out.
That's all for this week chums.  Enjoy your weekend!  Back at it on Monday.