Thirty minutes ago, I was sitting at my desk, tinkering with code, eating lunch (soup, if you were wondering), and listening to Sammy whine while he looked pathetically back and forth from the door to me. I felt bleary eyed and half witted after spending all morning sifting through WordPress plug-ins for two of my clients, the majority of which had terrible documentation and made me feel like my brain was 10 sizes too small.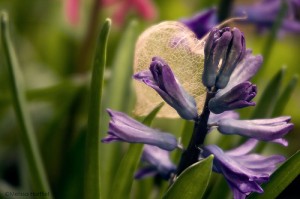 And then it dawned on me… I do not work in a cube anymore. I don't have to sit chained to my desk, eating my lunch, squinting at a screen, breathing in office air. I'm free, within reason, to do as I please.
So, Sam and I packed up my lunch and laptop and his Frisbee and marched ourselves out into the backyard. I'm sitting at my patio table in the sun (surprisingly warm today!) writing this and he is running around with a plant pot over his head bumping into things. It smells like spring: warm grass and freshly turned dirt. And we're both quite happy, thank you very much!
I'm not really sure what my point is but two things popped to mind:
banishing a rut
It's so easy, even as a small business owner/freelancer, to allow yourself to get stuck in a rut, huddled away in your office or studio while shutting the outside world out. Every now and then we need to remind ourselves that we don't have to do that – we're the boss! If you want to work outside, go outside. That's what laptops and sketchpads and old fashioned pen and paper were invented for. It's why we have smartphones! If it's raining, pop on your raincoat and walk to the local coffee shop for an hour. There are people there – you can interact if you want!
Obviously, I can't do everything while sitting in a deck chair. When I'm doing hardcore design or image work, I like to be in front of my Mac with a clear desk and room to spread out. But when I'm writing or returning a block of emails or sketching out design ideas, mapping out sites, brainstorming for a shoot, I can do all of that pretty much anywhere.
A change of scene does everyone good – it clears the mind. A deep breath of fresh air can make all that tension in your shoulders disappear. And if a dose of Vitamin D (aka sunshine) doesn't improve your mood, not much will!
why can't everyone do this?
My other point is not so well-formed. But it strikes me as odd that in order to do what I just suggested, often you have to be the boss. I could never had wandered off from my office job to work on a park bench for an hour. Somehow, that seems really shortsighted to me…
So here I am, an hour later: two WordPress plug-ins chosen and installed, two blog entries (one for tomorrow) written, lunch eaten, and emails caught up – all from my sunny patio. My mood has improved ten-fold and I have a good dose of sunshine in me. Sam has explored every inch of the garden, chased flies, caught some tennis balls and Frisbees that I have tossed for him in between keystrokes and is now lying in the sun chewing a stick. We've been very productive without being near an office.
I might just reward us with a walk around a local trail! 🙂