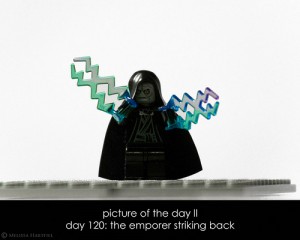 I don't have much for the Friday Few this week.  It's been a hardcore design week, which I love, but that always means that I tend to get completely absorbed in it at the expense of everything else.  That's what happened this week.
star wars geekiness
We are all Star Wars geeks at Fine Lime so imagine my delight at discovering the official Star Wars twitter account!
That, of course, led me to this:  The Death Star made out of a watermelon – for real.  And it is awesome.
The things that you stumble on when you need a break from Photoshop!
why i love chase jarvis
I was just about to hit the publish key when I ran across this post by photographer Chase Jarvis: 5 Photoshoot Ideas Worth Stealing.  I so want to do #3 but I think I might be too chicken!  Actually, I want to do them all.  If you get a chance, check out some of Chase's iphone photography – just goes to prove that the best camera you have is the one that's with you! 🙂
roll on weekend
Well, like I said, I don't have much for the Friday Few this week.  I'm going to go have lunch with a girlfriend (sushi!) and talk about some photography and then it's back to my desk to finish up another design mockup and then… weekend!  And it looks like it's going to be a beautiful, WARM weekend!
And what are all you entrepreneurial/creative types planning to do with your weekend?
Until next week!