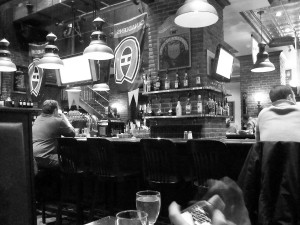 I flew into Vancouver late last night from a week long stay inside the giant cement bunker also known as the Place Bonaventure in Montreal.  The event was a technological success and I'm very proud of the team I had working for me – they worked hard and did a fantastic job!  They also treated me like gold and went out of their way to look after me – which I greatly appreciated.  The week was physically and mentally exhausting – so much so that I actually fell asleep on the plane despite a bumpy flight home.  I have a sneaking suspicion I was snoring at one point… and I know I was doing the head bob!  But we chased a gorgeous sunset hovering on the western horizon for 5 hours.  It was beautiful.
I had really hoped to post a few times while I was away – I did have a few "aha" moments that I thought would make for good writing.  But unfortunately,  I only saw my laptop for about 5 minutes a night before falling into a 6 hour coma in my hotel room.   And with internet access at $15 a pop for 24 hours… it really didn't seem worth it!   With so much noise around me 18 hours a day, my brain really couldn't formulate anything too coherent anyway.
But, a few random musings…
Why do hotel bathrooms never ever have good lighting?
Why am I always drawn to buying books on the road when I have no room in my suitcase for them and I could easily buy them from my house?
I need a bag that is a camera bag and a laptop bag all in one.
How come some of the most fun people I know have to live 5,000kms away?
Montreal hockey fans know how to throw a great party without getting stupid.
I earned a day off today and seeing as I'm the boss… I took one.
Hehe… yup.  It was a good week.
Back to normal next week (as normal as working for yourself can possibly be – but I wouldn't have it any other way!).  And I promise there will be some real posting!