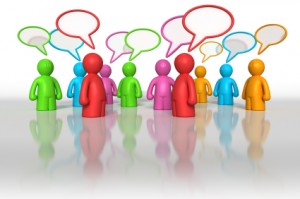 Sometimes, when you work from home or alone in a studio, it becomes very easy to insulate yourself without even realizing it.  Even when you start to go squirrely from lack of contact, often you'll reach out to what you know: family, friends, colleagues…
It's easy to forget the importance of making the effort to network.  And when you're shy like me, the thought of it can be very intimidating!
This past week I was in Montreal completing a contract involving a very large trade show.  The vendors participating were, for the most part, large multi-national and national companies.  The attendees were franchise owners with a corporate marketing department behind them.  I really wasn't surrounded by the type of people who typically seek out my services.  And given that I was there as an employee, it would have been highly inappropriate to actively sell myself to the crowd and that's not really my style anyway.
However, the role I was in put me in a position where people had to come to me frequently for information and help. So, while it would have been very easy for me to stay in my comfort zone and hide in my little booth and not participate, it also would have been a mistake.
I was in a perfect position to network.
It's easy to confuse networking with selling yourself when really, they're quite different.  Networking is not about landing a job right now (although that would be fantastic!).  It's about meeting people, getting to know them, and finding common ground and being exposed to new ideas all while expanding your circle.
So how do you go about it?  Especially when you're shy?
carry business cards. always.
You never know when somebody is going to ask you for your contact information.  Or when you will run into somebody who is just crying out for your services.  Being able to hand them a business card not only looks professional, it's efficient and something they can keep.
listen.  then listen some more.
Networking is just as much about listening as it is talking.  If you're shy, this is probably an easy one for you. 🙂  More importantly though, networking is about building a relationship.  Yes, you need to be able to explain what you do but you also need to hear what the other person does and needs.  Remember, you aren't trying to land a job, you're trying to make a connection with another person that will be mutually beneficial going forward.
pay attention
This goes along with listening.  Remember the person's name.  Look at their lanyard or nametag if you're at a large event.  It will often tell you their name, where they're from and what company they represent.  Ask for their card.  Make eye contact.  Shake their hand.  Be professional but also be yourself.  Know your manners.  Put your phone away and be in the moment.   Make that person feel like they have your undivided attention.
ask questions
Most people love to talk about themselves.  They're dying for you to ask them what they do.  It's an easy way to break the ice.  Have a list of questions in your head any time you go to an event that you can ask if conversation slows down.  Once again, remember that you are trying to find something that connects you to the person.
get involved
This is a great tip if you are shy.  Get yourself in a position where people have to come to you.  Be an organizer or volunteer for an event.  When people have to come to you and you have the opportunity to help them, it is a great way to be remembered and a great way to make a connection with a person.  And often, you don't have to make the first move!
I've done this one a number of times and I know that I've made connections with people I never would have under other circumstances.  On this most recent event, my role had me in contact with organizers, venue staff, trades and technical staff, vendors, and participants – in other words, nearly every person involved. It was a fantastic opportunity to meet a lot of new people and forge some great connections without having to push myself too far out of my comfort zone or feel like I was dropped into the middle of a big crowd.  And I did!
make connections and work will come
So did I land a new job while I was away?  Nope.  Will I land a new job down the line from my networking?  I can almost guarantee it!