I know, I know… it's been quiet in these parts lately – but that's not due to inactivity!  In fact, today's post is about a brand new venture that we're about ready to kick into gear.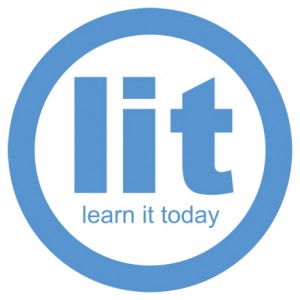 Along with Dazil Internet Services, Fine Lime Designs is very pleased to present Learn It Today or LIT, as we've taken to calling it!
ok, but what the heck is LIT?
LIT was a spark of inspiration that came out of a conversation that Dazil CEO, Dave Zille and I had around Christmas last year.  Our goal was to develop a WordPress class that we could deliver to interested clients that combined not only technical aspects but also design considerations.  However, as we talked, our idea grew.
We hope LIT will become the place to go for WordPress training resources – both on-line and classroom based.  WordPress has never been more popular, not just as a blogging platform, but increasingly as a fully functioning Content Management System.  And with all this popularity, comes more and more people wanting to learn the ins and outs of WordPress.  Our goal is to make that an easy thing to do!
We're just starting out right now with the soft launch of our website today.  LIT will be one of several sponsors of WordCamp Victoria on May 15th and Dave Zille will be presenting and participating in the technical panel at the conference.  We also hope to be at WordCamp Vancouver in June.
You can also follow LIT on Twitter: @learnittodayca.
There will be lots more to follow over the coming months on LIT so if you have any interest in WordPress or in starting your own blog, or website, please be sure to check out the new site and consider attending WordCamp Victoria or Vancouver.