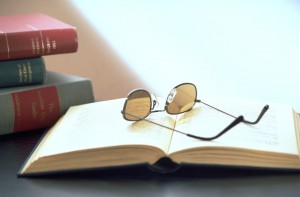 I have to confess, that lately I have slipped into the terrible (to me anyway) habit of starting a whole bunch of books and not finishing any of them.  I say it's terrible because I've always been the sort of person who never starts another book until I've finished the one I'm currently reading.  Might sound silly, but having a stack of half read book lying around kind of stresses me out!
So I declared the month of May to be "clean up week" with the goal of finishing my half read stack.  So far, I've made a good dent, finishing up three of the 5 on the pile.  (I have Agatha Christie's autobiography waiting in my office as a treat for when I finish my stack!)
Ok, so enough about my odd quirks and let's get on with the matter at hand: namely Escape From Cubicle Nation by Pamela Slim.
This book is for anyone who is considering plotting an escape from the corporate world to follow their passion and step into the realm of entrepreneurship.  All I can say is, unfortunately for me, I didn't pick this up until I had already made my escape from the cube farm.  Not because now I think I made a mistake.  Quite the contrary.  If anything, Slim's book confirmed what I already knew in my heart when I made my decision.  Not only that but I felt like somebody who really gets it was speaking to me, reassuring me and supporting me.
That's not to say that she paint a rosy picture that everything will be easy peasey.  Not at all.  The book covers all the usual subjects, like finding a good business idea, learning all about your potential market, business planning, money, branding, getting professional help when you need it as well as some of the nitty gritty, not so fun parts of starting up a business that are easy to turn a blind eye to when you're excited about just getting it up and running.  They're all there and despite having gone through most of these steps myself, I still found some new ideas and new ways to look at things.
What I did find in Cubicle Nation that I haven't seen covered as well in other books was a more complete look at the emotions that go along with leaving your corporate job… not just yours, but those of the people around you: friends, spouse and family.  She identifies different personality types and ways in which to bring up the big topic of "honey, I want to quit my 6 figure a year corporate job to become a wildlife photographer".  But, she also asks a lot of questions throughout the book that, if you want to really start off on the right foot, you need to be honest with yourself in answering.
I also liked the emphasis she placed on networking, and more importantly, identifying people who can act as mentors, advisers, and peers – not just sales contacts.
Slim's writing is crystal clear.  She's funny and direct and doesn't mince words.  But she's also supportive and enthusiastic about showing people the way to the life they want.  If you pay attention to what she says, do the things she tells you to do (yes, some of them may involve spreadsheets… ugh) and get your house in order, you will have put in a lot of work already and you'll have a better chance of succeeding out of the gate.  As she points out through the book, there is a lot of work that goes into starting a business… a lot of which you can and probably should do long before you make the leap.  Get your support systems in place, your finances in order, your business idea fleshed out and tested.  It will make life a lot easier and give you a pretty good idea if you are cut out for entrepreneurship.
Slim's background is in training and coaching and she also keeps a very successful (and useful!) blog called, Escape From Cubicle Nation!  Her "Open Letter to CXOs Across the Corporate World" should be mandatory reading for every C-level executive in the world.  If you are thinking about your escape from the corporate world, I highly recommend you check out this read to see if it's the right path for you.  I guarantee you'll learn a thing or two and you'll have an enjoyable read.