It's always exciting when we're ready to launch a new website – weeks and sometimes months of work go into a project and then one day… it's ready!  It's always a very satisfying feeling.
But even more exciting is when that site is part of the beginning of a brand new business spreading it's wings and getting ready to fly.   And last Friday we got to launch not one, but two new websites for two businesses that are just starting out!
makeup by andrea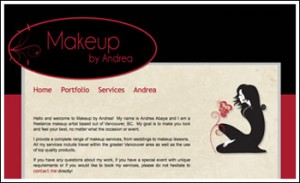 Makeup By Andrea is the on-line home for Vancouver based makeup artist, Andrea Abaya.  A long with a website, Fine Lime also designed a logo and busines cards to give Andrea a complete branding package.
Andrea offers a full range of makeup services in the Metro Vancouver area and she was a pleasure to work with!
blue moon cottage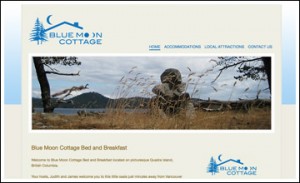 Ok, this one's a shameless plug.  Blue Moon Cottage is my mom's new bed and breakfast on Quadra Island, BC!  I have no idea if it's professional to say that or not but you know what? She's my mom!  And despite the pitfalls of working for family, we had a great time!
As well as the website, Fine Lime also developed a logo, business cards and brochures for the new B&B.  So if you're planning a visit to the Gulf Islands, give her a call 🙂
We wish both our clients much success in their new ventures – it's an exciting ride!
And so, it's Monday morning which means on to the next project.