I know, I know… I've been very absent lately but that is only because we've been so busy!  I hope to rectify that this month somewhat because here in BC it is small business month… something near and dear to my heart!
vancouver tourism awards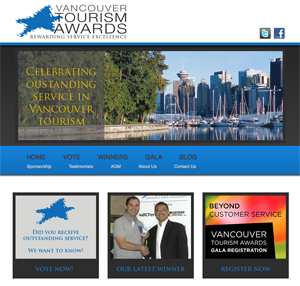 I'm so excited to announce the launch of our latest project, a site redesign for the Vancouver Tourism Awards that implemented WordPress and a custom theme.
I can't say enough about the good things this organization does to recognize outstanding service by front line employees in the tourism industry.  On top of that, they were a dream to work with and developer Dave Zille and myself had a great time putting the site together for them.  We wish them lots of success with the new launch!
I will do my best to be back on a more regular schedule from now on and catch up with the Friday Few.
Have a great weekend everyone!