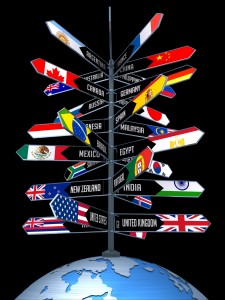 It's 7pm eastern time and I'm sitting at my fourth airport terminal in seven days.  My week has been full of planes, cars, buses, subways, cabs, streetcars and my own two little feet.   Tonight, sometime around midnight pacific time, I will roll up my driveway and stumble into one of the best things ever – my own bed.  I can't wait.
But as exhausted as I am, I always welcome the chance to get out of town on business for a few days.
When you work in a creative field it's so easy to let the day to day workings of running a business overtake the actual creative process.  Inspiration?  Well that seems to evaporate.  Traveling for work can be exhausting but, if you're lucky and do a little pre-planning, it can jump start your creative juices.
I usually fly Air Canada when I'm working and every time I do, they play the same HSBC commercial before my movie selection starts.  It's about a business traveler who manages to see inspiration wherever he looks.  In the background voice over he says you need to keep your eyes and ears open and really, that's what it's all about.  I always love seeing this at the beginning of my trips because it always reminds me of the opportunity to see something new that's right in front of me.
Anytime you have a chance to travel, you open your world a little bit more.  There is always something new to catch your eye – on a cab ride, out your hotel window, in a local restaurant.  Next time you're waiting for a flight or a meeting, put your Blackberry/iPhone and laptop away and simply people watch or absorb your surroundings.  Catch snippets of conversation, see what people are wearing, what is for sale in the shops and markets, look at the posters on streetlights or graffiti on train stations.  Look at colours and patterns, notice how light falls on buildings or your surroundings.
If time permits, schedule an extra day or even a few hours before you have to catch your next flight just to explore a city on foot or on the subway.
Email and the internet will survive for a few hours without you.  And if you must keep that iPhone or Blackberry on, put it to good use and snap a few photos of things that catch your eye that might just inspire your next creation!
We live on an amazing planet.  Don't forget to see it from time to time.