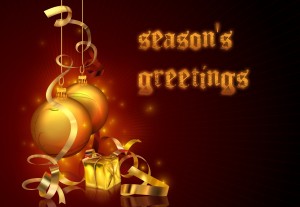 Gasp… I just mentioned the word Christmas!
If you are anything like me, you probably started shaking in your shoes at the mere thought.  As much as I love the holidays (and I really do!), they sure are a lot of work.
Whatever your beliefs, it's likely you celebrate some kind of December holiday and chances are good that you send some form of good wishes to your clients.
If you're an artist or running a creative business, this is a great opportunity to have some fun and showcase your creative side!  Don't buy a box of pre-made cards, instead, create something yourself that directly reflects the tone of your work and who you are.   It will be original, memorable and a small work of art in itself.  Do something fun and if you have the time, a little out of the box.
There are a few guidelines you should follow though:
While an original holiday card is a great marketing piece, keep it in the spirit of the season.  This is not about soliciting business, it's about genuinely wishing others well.  Keep it simple and heartfelt and skip the sales pitch
Remember that while you're skipping the sales pitch, the piece you send out still reflects on your business.  Whimsical, fun and original are all great.  Edgy might work if you have the right client base but it's probably better to err on the side of caution.  Keep it appropriate for your client base.
Be respectful of others beliefs.  It might be wise to avoid anything with heavy religious overtones.
Give yourself enough time to get your cards printed, signed and mailed.
A handwritten signature is always more personal than a stamped one and if you can't be personal during the holidays, when can you?
Remember the purpose is to have some fun, let your creativity out and most of all, wish those who have helped your business throughout the year all the best of the season and a happy new year!