I haven't done a Friday Few in ages.  But I'm back with a vengeance this week!
vancouverites only – circle craft
This one is just for my fellow Vancouverites.  It is that time of year again except… it's a week later than usual.  The 37th Annual Circle Craft Christmas Market is on this weekend.  Every year hundreds of extremely talented artisans from around the province gather under one roof to sell their beautiful wares.  This is one of my favourite events every Christmas and you are sure to find some very unique Christmas gifts for your loved ones, and for yourself!  It's being held at the Vancouver Convention Centre West from Nov. 17 – 21st.  Tickets are $12 at the door or $10 on-line and are good for the entire length of the show.
And as this blog is aimed at creative small business owners,  if you are a craftsperson in British Columbia, you can apply to become a member of the Circle Craft Co-operative, based out of Granville Island.  For more information check out the About Us section of their website.
a pretty little free font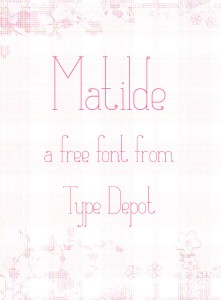 I stumbled across a new free font the other day via one of my favourite design blogs, published by How Magazine. (also one of my favourite visual design magazines).  It's called Matilde and it's by font foundry Type Depot.  You can use it in your personal and commercial projects and it's also (and I'm excited about this) free to use with the @font-face declaration in web design, as long as you provide a link to Type Depot on your site!  The file also comes with some really pretty squiggly frames for adding some extra fun to your designs.
Anyway, check Type Depot out if you collect fonts for your work – they have some other great freebies on their site.
a shameless plug
Yup, a shameless plug for myself.  Two of my passions (besides design) are food and photography.  About three and a half months ago I launched my own personal project blog called Eyes Bigger Than My Stomach.  It combines both the food and the photography as well as my foray into food styling.
There's lots of pictures, and some great recipes (that I've cooked, photographed and sampled before I posted).  From time to time I also post non-food related photographs as well and starting next week, I'll be doing a spread out series of post with some tips and tricks I've learned along the way on how to make food look great.  All without using crazy expensive gear!  So if you're so inclined, stop by and check it out and let me know your thoughts!
That's it for this week – have a great weekend everyone!