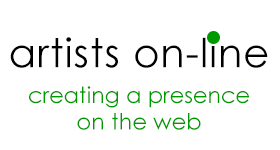 You're an artist, crafter, some kind of creative entrepreneur and you're thinking about starting a blog.  Everyone seems to have one and you probably enjoy reading many of them.  So why not step into the fray?
Blogging is one of the most established forms of social media.  (I started my first blog way back in 2004 on the Live Journal platform!)  It's also one, that when done well, can have huge benefits to your business and lends itself very well to creative people.
However, it also requires a great deal of patience and commitment to establish yourself and start seeing rewards.
Here are a few of the benefits that blogging can bring you as a creative entrepreneur or artist:
exposure for your work – exposure that you control.
another way to build relationships with existing and potential clients
higher search engine ranking which can result in increased traffic to your website and portfolio
potential income from monetizing your blog
All of those are good things.  But here are some of the things you'll need to do to make the benefits happen:
most importantly, have good content
have good content
have good content
write consistently and regularly – at least once a week
interact with your readers to help build a community – this means responding to your commenters and making them feel heard and welcome
consider a twitter account that you can send blog updates to
oh yeah… did I mention good content?
Blogging requires a time commitment.  The key is building a solid group of followers and that requires good content and consistency.
finding consistency
One of hardest, but also most important, parts of blogging is maintaining quality content while still being consistent.  You don't want to blog for the sake of blogging, but at the same time, if you're unable to update regularly, you'll find it very difficult to gain a solid readership.  People can be patient to a point but if you're sporadic and inconsistent, they'll stop coming back or delete their RSS subscription.  If your eventual goal is to monetize your blog, inconsistency is not going to work.
Do you need to update every day?  Not at all.  Even as little as once a week is acceptable.  Less than once a week?  That starts to get into a hazy area.  If you only want to update once every two weeks, you might be able to make it work if your content is outstanding and if you make it clear in your About page or in the sidebar of your blog that you only update every other week – but then make sure you stick to that schedule.  Again, it's about consistency.
you don't need to be a writer to blog
Don't like writing?  You may want to reconsider the idea of having a blog – most of them do require some writing, if only brief.  However, it's not always necessary!  There are a lot of great artists out there who have blogs that showcase their work – often personal projects, using only pictures and maybe a brief description.  There are a lot of great One a Day project blogs where the artist is doing a photo a day, or a design a day.  If you've been considering a project like that, incorporating a blog into your site is a great way to share it and keep yourself on track.  Don't want to go the One A Day route?  Consider doing something similar but on a less frequent basis.  Once a week, maybe.
Finding relevant content is always a challenge.  I visit many creative blogs in any given week, for research, inspiration and, frankly, just because I like pretty stuff.   Find a niche.  One that relates to your work.  You can't be all things to all people so don't even try.  Just like your art or creative endeavors may not appeal to everyone, your blog can't either.  You know who your clients are, think about what they'd like to see and focus on that.  Create a weekly or monthly post of some of your favourite bits of inspiration that you've come across.  Let people know what you're working on.  Having a showing? Participating in a artisan show?  Talk it up!  Promote any other creative communities you're involved in. Poke around and see what others are doing.
things to consider before jumping in
Blogging isn't for everyone and before you make a decision either way, remember that it is absolutely a part of your marketing strategy and will reflect on your business. Therefore think seriously about these factors:
how much time can I realistically put towards a blog?
can I do this on a consistent basis?
do I feel I can contribute meaningful content on a regular basis?
do I want to do this?
Like any form of social media, there is nothing wrong with not having a presence if you're not prepared to give it the time it needs to work for you.  A blog tied to your business is a marketing effort that's as important as your logo, your portfolio, and your customer service.  If your marketing energies are better focused somewhere else, do that.  There's nothing worse than a half-hearted attempt left out on the internet for the world to see.
But, if you have the desire and the energy to craft a blog, it's a great way to increase your visibility, attract new clients and even give you another creative outlet.
Feel free to drop a line in the comments if you have more questions on blogging as an extension of your creative brand or contacts us directly if you want to discuss it more in depth!
In the meantime, here are two great resources to help you out: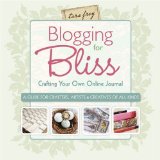 Blogging for Bliss: Crafting Your Own Online Journal: A Guide for Crafters, Artists & Creatives of all Kinds
by Tara Fry.  A great guide with all kinds of examples of other creatives using blogging.  My only piece of advice I would add is that you strongly  consider making your blog an extension of your existing website as opposed to starting a blog on a separate platform – it will help your traffic and search engine rankings for your portfolio.
tentbloggers.com John Saddignton knows what he's talking about when it comes to professional blogging and has the experience to back it up.  Even if you don't want to be a professional blogger, his site is literally packed with advice and tips to improve your blog.  I've learned a ton from him.