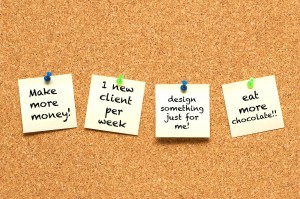 Time doesn't stop and so, 2011 is here!
Every blog out there has a post on goals, resolutions, planning for the New Year and we don't want to be totally left out!  I think everyone knows that the new year makes a great time to take stock of what you accomplished during the past year and to look forward to the year ahead.  What can you do better?  What can you build on? And, what can you try that's brand new to you?
So what are your goals for the coming year?  Either for yourself or your business.  Planning any interesting personal creative projects?  Are you going to be tracking their progress on-line?  If so, let us know!  We'd love to follow along from the beginning!
I have a list of goals, both professional and personal,  a mile long.  I always do every year.  I never expect to fulfill them all, but I find if I write them down, they stick with me and sooner or later, a lot of them come to fruition!
Fine Lime Designs has lots in store this year!  We'll be expanding on our popular Artists On-Line series and our Creative Entrepreneur profiles this year and we have a few other things up our sleeve that we're not ready to announce just yet.  (But they'll be cool – I promise!)
So let us know what your goals are this year!  And stay tuned.
Happy New Year!