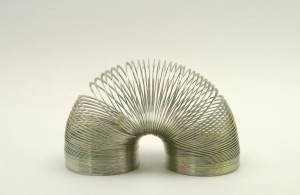 In my last post I talked about a few of the bigger challenges I faced in my first year of self-employment.  Today I thought I'd write about one of the biggest lessons I learned and two of the most important skills you need to have as an entrepreneur: flexibility and adaptability
Although at first it might sound like it, the two don't not run at odds with other important skills like self-discipline or goal planning.  Rather, they're complimentary to them.
It's important to have a business plan and a set of goals so you know what you're working towards – we all know that.  It's also important to have the self-discipline to carry them out and stick to tasks that will help you accomplish your goals instead of wasting time on tasks that won't get you where you want to be.
small business advantage
Flexibility and adaptability are two advantages small businesses have.  We're in the unique position of being able to quickly respond to changing markets, capitalize on emerging trends and be nimble with our advertising and marketing.  Like a train or a cruise ship, big companies usually have too much infrastructure and processes in place to turn on a dime.
So take that advantage and make it work for you by keeping a watchful eye on all the different aspects of your business and look for opportunities you can jump on (if they align with your goals), and weed out the efforts that aren't working or providing a good return on investment.
fine tuning
I'm starting to understand just how important it is to be constantly  fine tuning my business.  It's something I make time for every week.
Measure everything.  Review your measurements regularly and frequently – this is what will make it easy for you to bend and adapt.  You can respond quickly.  Know what's giving you hard results and what's not and don't be afraid to stop something that's not making the cut.  You can always try it again later if it makes sense.
Having said that, sometimes the results might not be there but your gut is telling you to hold off on pulling the plug.  It's ok to listen to your gut… but not for an indeterminate amount of time.  Put deadlines in place and in the meantime, keep measuring your results.  If you start to see improvement, you can move the deadline back.
Don't be afraid to try new things! The best part of small business flexibility and adaptability is, if it's not working, you can quickly drop it!