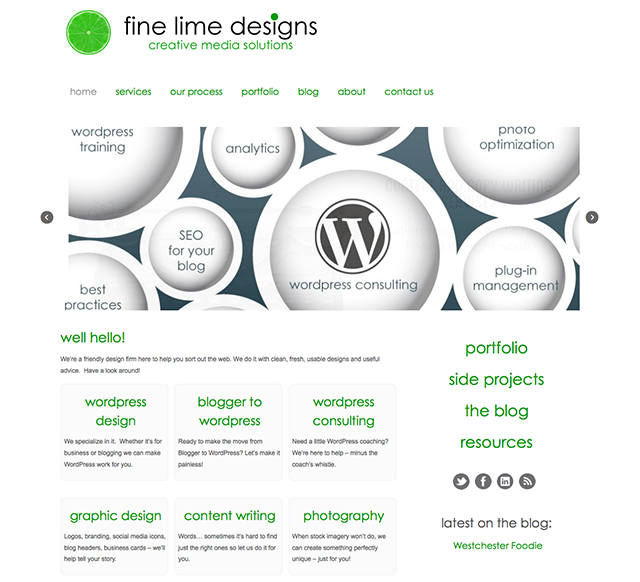 Well, hey there!
It's been a while, hasn't it?  A little over a year since the last post!
That's because I've been trying to engineer a site re-design in between clients.  It's taken a little longer than I expected but it's very close to being done.  There are still a few kinks I'm working out, that hopefully nobody but me will notice!  The portfolio was long overdue for an update, social media was pretty non-existent and the focus of the company had changed.  It was time to do a refresh so the site better reflected what Fine Lime Designs is all about!
The new site is much closer to what I always envisioned – clean, simple and minimalist.  Just the bare necessities!
For those of you curious, this is a customization of Canvas by Woo Themes, probably my favourite stripped down theme for designers from any of the major theme frameworks.  It literally is a "blank canvas".
And there is more still to come.  There will be a mobile version coming in the next month or two and this blog is going to be completely revamped in the next few weeks.  The existing content will all remain.  But in addition to the small business resources, the Artists On-Line series and the profiles of creative freelancers and small business owners, there will also be some fun new stuff and goodies to help you start, maintain and prettify your own WordPress website.
So please feel free to take a look around, check out what we do, what FLD is all about, some of the side projects I'm involved in, and take a browse through the blog.  It's also easy now to follow us on twitter and facebook, and if you look to your right, it's easy to subscribe by email or RSS if you want to stay on top of all the latest posts – we'd love to keep in touch!
And if you have a project or need some help and you think we could fit the bill, be sure to drop us a line!