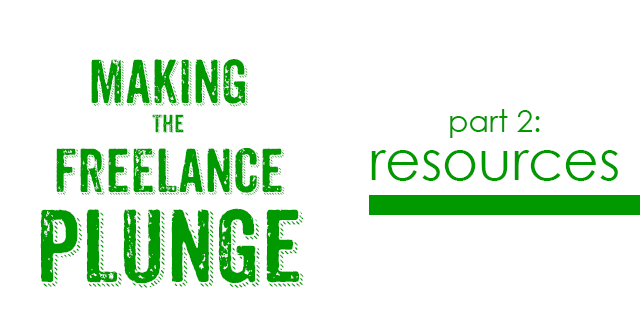 This is part 2 in our series on Making the Freelance Plunge.  Part 1 was all about getting your financial house in order before going out on your own.  That may mean taking or staying in an employee position for a little while.  But whether or not you have to stay in a full time job for a bit or you can go out on your own right now, you can still start working on building up your resource library right away.
What is a Resource Library?
When I say "resource library" I mean two things – building up your information resources and building up your people resources.
1. Information Resources
Information resources are the stuff that will help you do your job better, faster and easier – so you can work smarter and earn more:
find expert blogs with advice and resources in your field – no matter what you do, somebody is writing about it and writing about it well.  Find them!
reuse and recycle.  Don't write the same piece of code over and over or the same client contract or the same email.  Create templates for yourself for everything from code to emails to invoices and then tweak them for each job.
if you're a designer like me, create a design asset library with things like stock photos, theme templates, photoshop brushes, patterns, backgrounds, vectors, fonts.  You never know when you might need them and there's so many great resource sites out there.
subscription websites for graphics, stock images and other goodies – some are extremely reasonable
don't forget resources outside of your industry – look at resources for small business, bookkeeping, marketing, social media, SEO, and anything else that can help you get yourself and your business out there.  That's half the battle.
magazines and books.  If you work in a visual field like design or photography, magazines are still a valuable resource, whether it's an actual physical magazine or an e-subscription through an app or zinio or another subscription service (hint: the UK produces some excellent design, web design and photography publications)
resource websites that offer on-line tutorials, in person classes or video classes like lynda.com, NAPP, Kelby Training can be well worth the annual membership fees.
2. People Resources
You need people! You need them to be clients and you need them to be colleagues.  But how do you find them?
Go Out.
That's right.  Get out from behind your laptop and go play outside.  You need to actually meet new people and tell them what you do.  Go where potential clients are.  Talk to them.  Ask them questions about themselves and be genuinely interested in what they have to say – you never know where it may lead!  It might be a cocktail party or a continuing education class.  Just go out!
Give out your card.  People remember things when they touch them.  Sure they might put it in a jacket pocket but who hasn't reached into a pocket a few months later and pulled out something and said "oh yeah… I remember that person".  You never know when somebody might need your services… or when their friends will.  People are always more likely to recommend somebody they've met face to face.
Know Your Pitch.  Be able to tell people what you do concisely and quickly.  Attention spans are short.  This is really hard to do and you'll have to change it depending on who you're speaking to.  And revisit your pitch every few months.  You evolve, so does your business
Attend Industry Events  This is how you meet people who can become colleagues, who you can hire as sub contractors and who can help you out when you've got too much work or when something comes up and you can't finish a project (stuff happens – people get sick, accidents happen).  And in turn, you might pick up extra work from other people in your field if they're too busy or need help!  Believe it or not, most freelancers like to have a small group of trusted colleagues that they can refer people to when things are busy.
Find a Mentor an often overlooked step but one of the most valuable ones! Find somebody established in your industry.  Approach people you respect, admire and who are successful at what they do – and remember, the definition of success varies from person to person.  When you find the right person, ask questions, listen, observe and be respectful of their time – they are being generous with theirs and with their expertise.
Don't forget… a lot of people will help you out when you're starting out.  When you are established, give back to that community.  Help out those just entering your field and be open to being a mentor yourself.  It's good karma and will gain you a lot of respect in your profession.
Join us for Part 3 of Making the Freelance Plunge: Personal Portfolio Projects, next week!
Have you joined Fine Lime on Facebook or Pinterest?   We post extra goodies there for help  and inspiration with blogging, wordpress, design and photography!