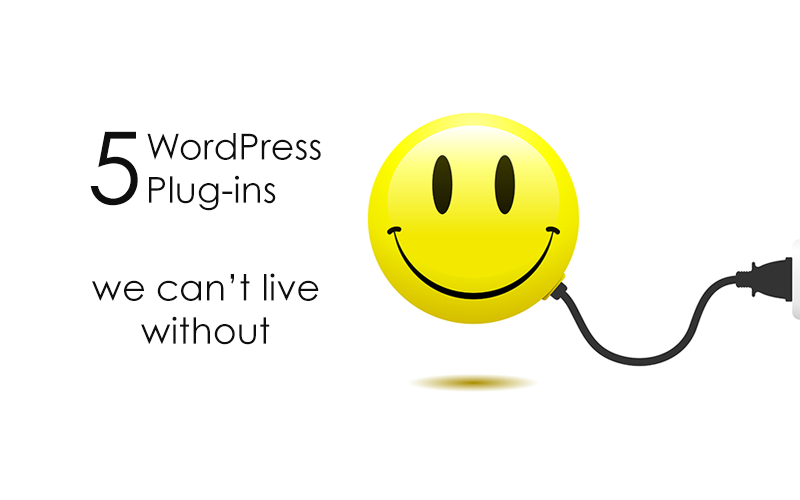 I think we all know by now that WordPress is a very powerful content management system.   What once started out as "blogging" software, it's now so much more, powering multi-functional websites all over the web.
Part of what makes WordPress so flexible and powerful is its repository of plug-ins.  If WordPress can't do something, there's a plug-in that can probably make it happen.
Plug-ins expand the functionality of your site.  It can be easy to get carried away with installing them (and forgetting to delete them when you no longer need them).  Too many plug-ins can slow down your site so it's always best to ensure that anything you install has a very clearly defined function and is working hard for you.
While we're believers that less is more when it comes to plug-ins, there are some that we absolutely use on every project we touch.  So we thought we would share.  Here they are:
5 WordPress Plug-Ins we love
Akismet
Akismet comes bundled with WordPress as an anti-spam plug-in.  It's already installed – it just needs to be turned on. We're always shocked by how many clients don't activate this incredibly powerful plug-in.  If you allow commenting on your site, as most blogs do, you can easily become inundated with hundreds of spam comments/day.  Akismet stops them before the notifications ever get to your inbox.  It holds them all in a spam folder so you can review them at your leisure if you wish.  Just make sure that you empty this spam folder from time to time – it can quickly accumulate to thousands of comments, taking up space on your server.

Cost: free for personal blogs, $5/month for business sites – a bargain at twice the price.
Backup Buddy
This is a premium plug-in, which means it has a pricetag.  But we know from numerous experiences that pricetag is well worth it.  Backup Buddy gives you the ability to back up your entire site, including database AND theme files with one click.  You can store backups on your server, download them to your own computer or have them sent to cloud storage sites like Dropbox.  It allows for scheduling or manually backing up.  And when it's one click, you have no excuse but to do it!
Backup Buddy also lets you easily restore your website and move it if you decide to change hosts.  WordPress isn't perfect and "stuff" happens.  Having a viable backup that you can easily restore when that stuff does happen is priceless.  We've rescued many a client (and even ourselves) who've followed our advice and been religious about backing up with this plug-in.  One word of note, we have found it does sometimes require a conversation with your webhost to make sure your server will allow it to run properly.
Cost: starts at $80 for two personal licenses (good on two sites or blogs)
Woo Sidebars
We work with Woo themes a lot here at Fine Lime Designs so it was a no-brainer for us to start using their Woo Sidebars plug-in.  However, we've had a lot of success recently using this with other, non-Woo, themes.  This plug-in lets you easily create multiple sidebars for your site that can be assigned to specific categories or pages.  This can be tremendously helpful if you work with advertising or want to highlight specific things depending on what part of your site is being viewed.
Cost: free
All in One SEO or Yoast SEO
We've used both of these depending on the client.  People have differing opinions on which is better but what we've noticed is that they seem to challenge each other in terms of bettering their product.  As soon as one eeks out a lead, the other comes back with an improved product.  Both Yoast and All in One SEO provide an easy to use interface to improve your Search Engine Optimization with keywords, descriptions and titles for your overall site and for individual pages and posts.
Cost: free for both.  All in One does have a paid pro version
Google Site Map
Another very simple but important plug-in that's often overlooked is Google Site Map.  This will quickly generate a sitemap file that can be submitted to google, making sure your site is properly indexed for SEO purposes.
Cost: free
There are many, more we use, on a case by case basis but these 5 are used on every install of WordPress we work on!
Plug-In Upkeep
Don't forget to maintain your plug-ins.  This is very important to make sure your site keeps running at peak performance and to minimize security risks:
Keep all active plug-ins up to date.  Update any plug-ins when they have an update notification
Back up your site before updating any plug-ins! "Stuff" happens.
Delete the files of any plug-ins you are no longer using.  It keeps your site trim and fast and minimizes security risks.
Even if you have inactive plug-ins on your site, it's equally important that you keep them updated.  If the files are on your site, they can still be at risk for any security holes that are discovered.
Plug-ins evolve and new ones are always popping up.  We keep our eyes open for anything that comes along that might do a better job than what we're currently using.  So let us know… what are your "must-have" plug-ins?
Have you joined Fine Lime on Facebook or Pinterest?   We post extra goodies there for help with blogging, wordpress, design and photography!