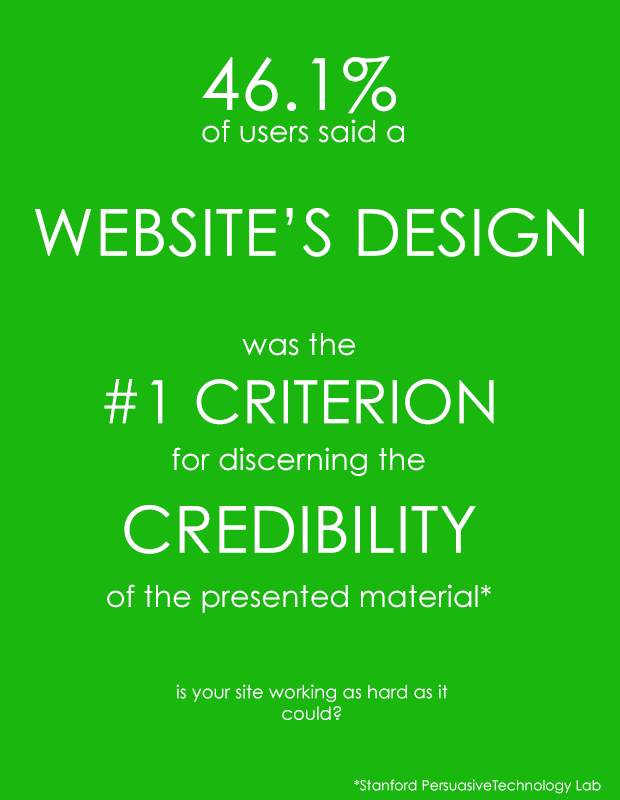 You may, or may not, have seen this stat that came from the Stanford Persuasive Technology Lab*: 46.1% of participants surveyed said a website's design was the number one criterion for discerning the credibility of the presented material.
Wow.  That's a big number.  In other words, 46.1% of people asked said the NUMBER ONE criteria for credibility was design.  In fact, in order to get them to take your content seriously, it better look good!
The web is a visual medium and it's important to remember that.  A great example of this is Pinterest.  How many of you use Pinterest as a visual search engine when you want to paint a room, make a recipe, organize your garage, or buy a new outfit?  It gives you visual inspiration that you just don't get in Google.
Is your website performing as hard as it could for you? Here's just a few things to look at:
Is it easy to read?
Do you have great visuals?
Do you provide lots of visual cues for your users so they know how to find you on social media, how to contact you, how to find your products for sale?
Do you need to get rid of clutter?
Do you need to use an easier to read font?
Do you need to update? Design trends change and if your website hasn't been updated since 2004, you need to take a good hard look at it.  Looking out of date instantly impacts your credibility on the web!
Design is important.  Maybe now is a good time to step back and look at your on-line presence and ask yourself it it inspires confidence and credibility.  You may not need a whole new redesign – it could just be some tweaking here and there that you may be able to do on your own.
If you're too close to your site, ask for a second (or third) opinion.  Survey your users or readers and ask them what works and what doesn't.
Need help?  Why not contact us or your favourite web designer and ask for a consulting session?  Lots of designers offer one or two hour sessions where we'll review your site with you and show you where you can make some small but simple improvements – often on your own.  The cost is far less than a redesign and it gives you an opportunity for some one on one time with a designer and the chance to learn a few tips and tricks for your site!
*source from the Stanford Persuasive Technology Lab