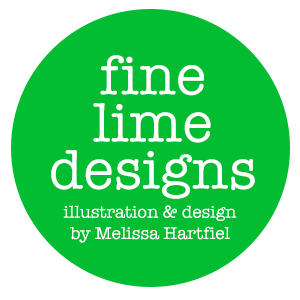 Design, Illustration & Small Business Help
Fine Lime Designs Small Business Services
Fine Lime Designs Business Services provides newsletter writing services and ebook, lead magnet and media kit design.
Ebook, lead magnet & printable designs
Media Kit design
Canva Templates
Newsletter writing packages
Fine Lime Designs Illustrations & Stationery
Hello! I'm Melissa – a graphic designer, illustrator and creative entrepreneur who goes through life splashing bright, bold colour wherever I can! I create whimsical, brightly coloured, mixed media illustrations.
From Miss Doodle to sea creatures and retro dancing robots to food, my work is mostly traditional alcohol marker, ink and watercolour based. Check out my art and creative blog to see what's new or shop for prints, stickers and notecards
Beautiful ebooks can showcase your work, be powerful lead magnets to grow your email list and become lucrative revenue streams in their own right.
I can help you build your business with an eye catching ebook or series of ebooks (and help you market them!)
Happy Little Doodles & Designs
A long time doodling habit led to the birth of my fiery, little red headed alter-ego, Miss Doodle.
She, in turn, has inspired my ongoing illustration work as well as lines of prints, greeting cards and stickers, all hand produced in my little West Coast Studio.
Every week, as the host of the And She Looked Up Podcast, I sit down to chat with Canadian women who create for a living. We talk about the challenges of creative entrepreneurship, business tips and strategies and managing mindset.
Melissa took into account my goals and delivered a clear logo that is bold and colourful, striking and easy to read, which is EXACTLY what I wanted and needed.
Subscribe to My Newsletter
If you are interested in learning more about how email newsletters and great digital product and marketing design can move your business forward, sign up for my email newsletter! You'll get regular tips from me each month on how to connect with and grow your community of raving fans!