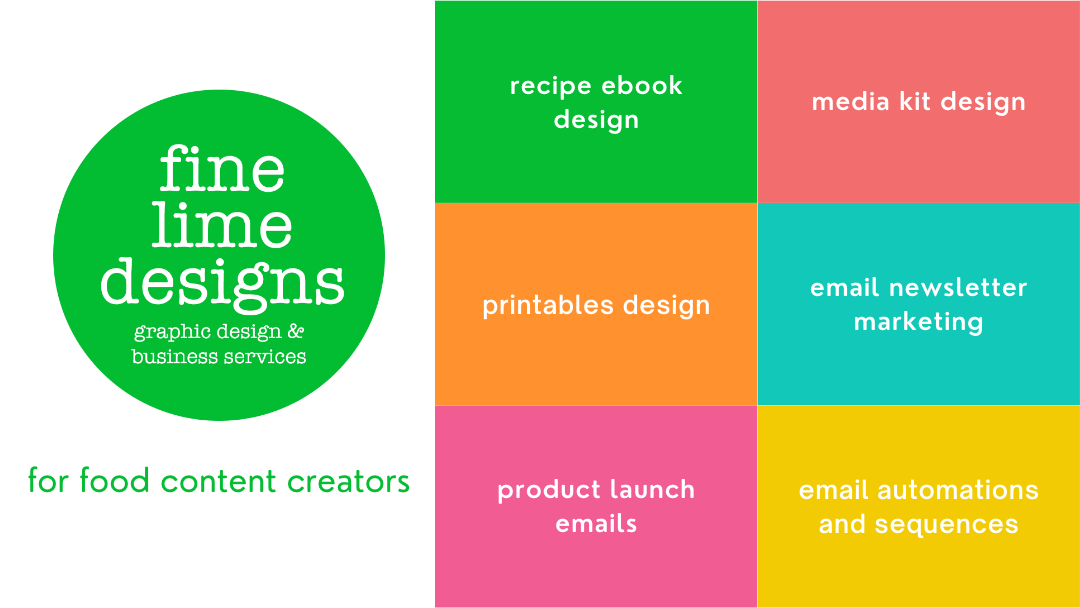 email marketing & digital product design
just for food content creators.
don't know what to send your email list?
Join mine and I'll help!
Sign up for my monthly newsletter where you'll get seasonal email prompts just for food content creators.
Every issue also contains:
→ tips to make the most of your email list
→ how to use your list to market your digital products
→ food trends and marketing tips
sign up now!
Fine Lime Designs Business Services provides newsletter writing services and ebook, lead magnet and media kit design.
Ebook, lead magnet & printable designs
Media Kit design
Canva Templates
Newsletter writing packages
Beautiful ebooks can showcase your work, be powerful lead magnets to grow your email list and become lucrative revenue streams in their own right.
I can help you build your business with an eye catching ebook or series of ebooks (and help you market them!)
Melissa was so easy to work with and helped alleviate the stress of such a daunting task. Communication was always clear, concise, and prompt. She did an amazing job on all my ebooks!
Melissa took into account my goals and delivered a clear logo that is bold and colourful, striking and easy to read, which is EXACTLY what I wanted and needed.
looking for my illustrations?
If you've stopped by looking for my illustrations and stationery designs, they've moved over to my new on-line shop, finelimeillustrations.com!
subscribe to my newsletter
If you are interested in learning more about how email newsletters and great digital product and marketing design can move your business forward, sign up for my email newsletter! You'll get regular tips from me each month on how to connect with and grow your community of raving fans!