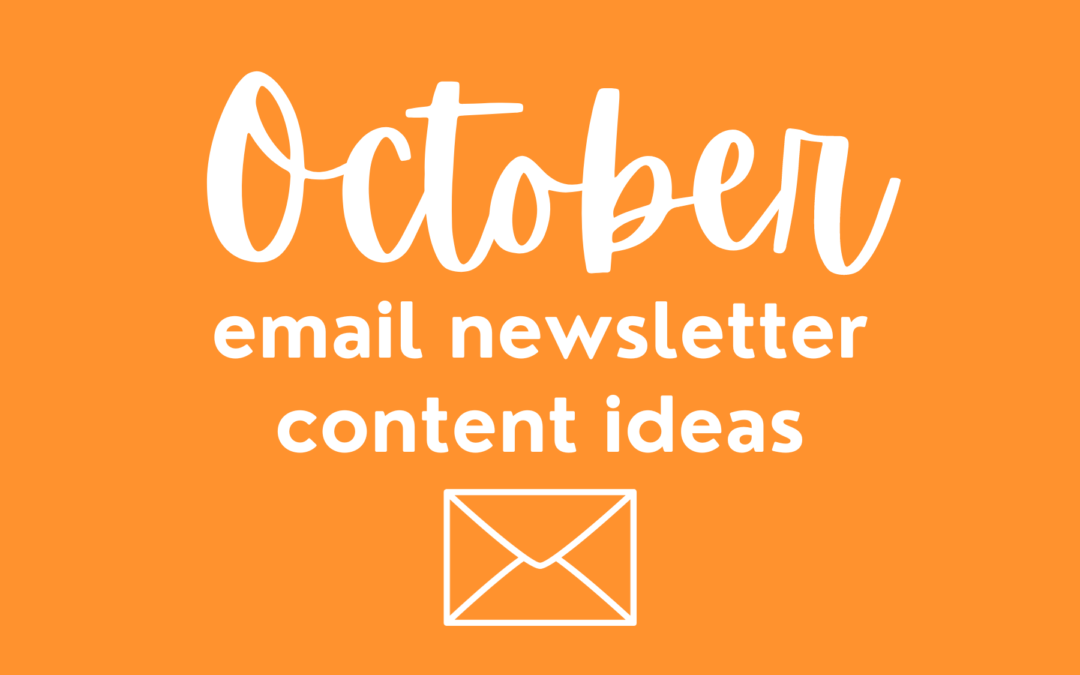 October is just the start of the busy holiday season. Work ahead with these October email newsletter ideas for food bloggers and food content creators.
October is when things really start to get busy for food bloggers and content creators and you will have no shortage of content ideas.
A lot of food content creators up their send email send frequency as we get into Q4 – especially if their audience is focused on baking or entertaining. This isn't necessary – especially if you're already emailing multiple times a week – but it is a great way to give your traffic an additional boost through the season where RPMs tend to be at their highest.
But, you'll definitely want to plan for this. As we've talked about before, repurpose your older content in your emails – the more of it you have, the less work you'll have to do! Work as far ahead as you're able to – it will be less work in December!
SEASONAL HOLIDAYS
Canadian Thanksgiving: October 9th (2023)
Halloween: October 31st
Canadian Thanksgiving is a huge food holiday so even if you're an American content creator, it's worth making mention of it – perhaps you could put together a mini guide of links to your most popular Thanksgiving content and pop it in one of your emails.
Halloween – more down below (it deserves it's own section!)
Diwali runs from November 10-15th (2023) and late October is a great time to start trickling out content if this is a good fit for you.
If you have digital products (ebooks, shopping lists, menu planners etc,) around preparing for any of the remaining holidays in the year – Halloween, Thanksgiving, Diwali, Hanukkah, Christmas, or New Years now is the time to be actively promoting them to your list every week for the remainder of the year.
HALLOWEEN
Halloween content is becoming almost as big as Christmas and people are looking for a lot of fun ideas and activities. This is a great time to flex your creative muscles with spooky content:
Pumpkin: It's all things pumpkin from now until… well… the end of the year really! Don't just focus on sweets. Remember savory applications, beverages and using up all the remains of the pumpkin to avoid waste and jack'o'lantern ideas
Party foods: the spookier, creepier and more fun, the better: Halloween charcuterie boards, anything with eyeballs in it (pasta, punch, brownies), ghoulish cocktails – let your imagination go to town!
Halloween with kids: this is a great time to get kids in the kitchen and people are looking for tutorials and easy, fun recipes kids will want to help with.
School treats: cupcakes, bars, cookies, alternatives to sweets, nut-free
Entertaining menus: horror movie night, pre-trick or treating fuel, trick or treating after parties, fireworks block parties, adults only costume parties, party goody bags, budget friendly ideas
Cakes: more and more Halloween cakes are showing up as showstoppers for a party
Leftover candy recipes… so much candy… 🤣
SPORTS
It's tailgate season! Sports are in overdrive in the fall: hockey, college football, NFL, CFL, World Series baseball… that all adds up to a lot of game day weekends!

Pull out your game day recipes: snacks, dips, wings, finger foods, chili – all the favourites!
Canadians, don't forget Grey Cup is in November – I know from my own food blogging days that a lot of people search specifically for Grey Cup recipe ideas and it's an underserved niche.

**Don't forget to add in vegetarian and vegan options as well as some alcohol-free beverages – all of these are continuing to grow in popularity and it's rare to host a gathering these days that doesn't include meat and alochol-free guests!
PIE SEASON
Some may not agree but I think pie season is the best season!

Apple, pear, pumpkin, pecan, sweet potato, mince… and don't forget the savoury ones! There's also tarts, galettes, lattice tops… can you tell I love pie?

With pie comes pastry so pull out your pastry tutorials and videos and includes those in your emails too.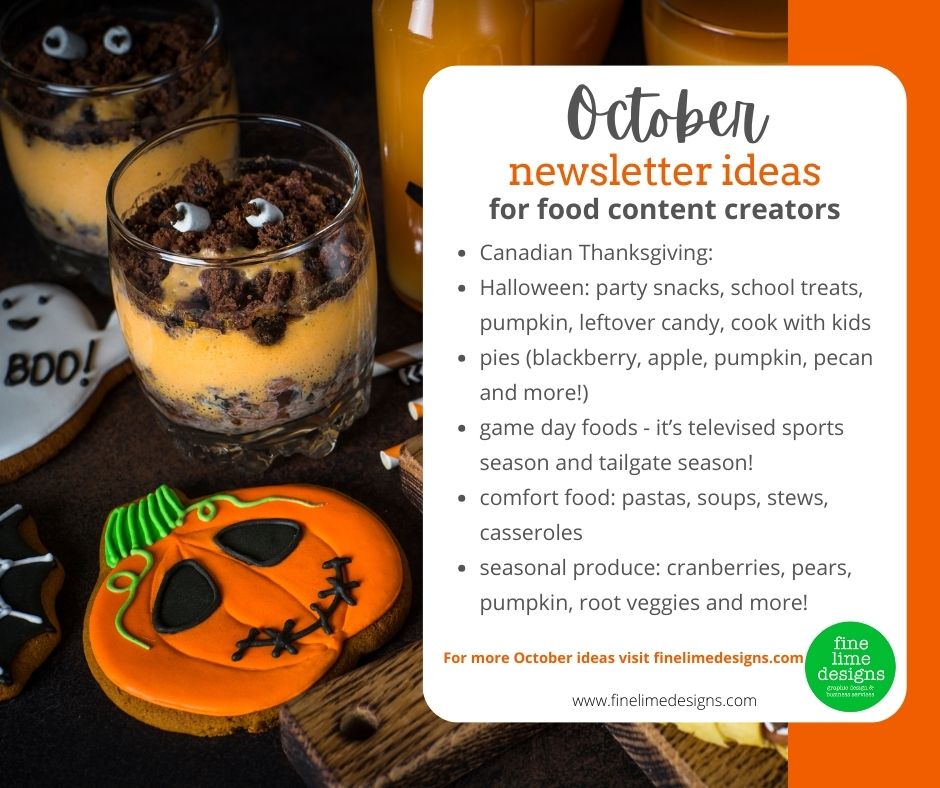 COMFORT FOOD
It's full on comfort food season and comfort food email content always does well, regardless of your food niche.
casseroles
soups
hearty pasta dishes
roast dinners
breads, buns and biscuits
potato dishes
anything with melted, bubbly cheese
Think of ways you can put a spin on these for your audience:
budget-friendly
diet specific: gluten-free, dairy-free, keto, etc
meal planning and prepping, batch cooking
meat-free
easy, weeknight friendly, under 30 minutes, etc.
SEASONAL PRODUCE
Almost all the typical North American summer produce is finished by October and we're heading into the season of root vegetables, squash, hardy greens and alliums (onions, garlic, leeks etc)
apples, crab apples, quince
pears
cranberries
pomegranates
carrots, parsnips, turnips, beets
winter squash, pumpkins
potatoes and sweet potatoes
Brussels sprouts, broccoli, cauliflower
leeks, onions, fresh garlic
kale, Swiss chard, cabbage
TAILOR YOUR OCTOBER NEWSLETTER CONTENT FOR YOUR EMAIL AUDIENCE
How you proceed with your emails for October will depend on your audience. You know them better than anyone else. Remember that your email audience may be different from the audience that finds you through search.
Focus on what your newsletter subscribers respond to. If you have the data available in your newsletter marketing platform, look at which content they responded to last fall. Then create newsletter content that's a good fit. If your audience doesn't care about sports, skip the sports content!
Now's the time to get started. Plan out your October newsletter calendar and batch write your emails. Schedule them and you're good to go!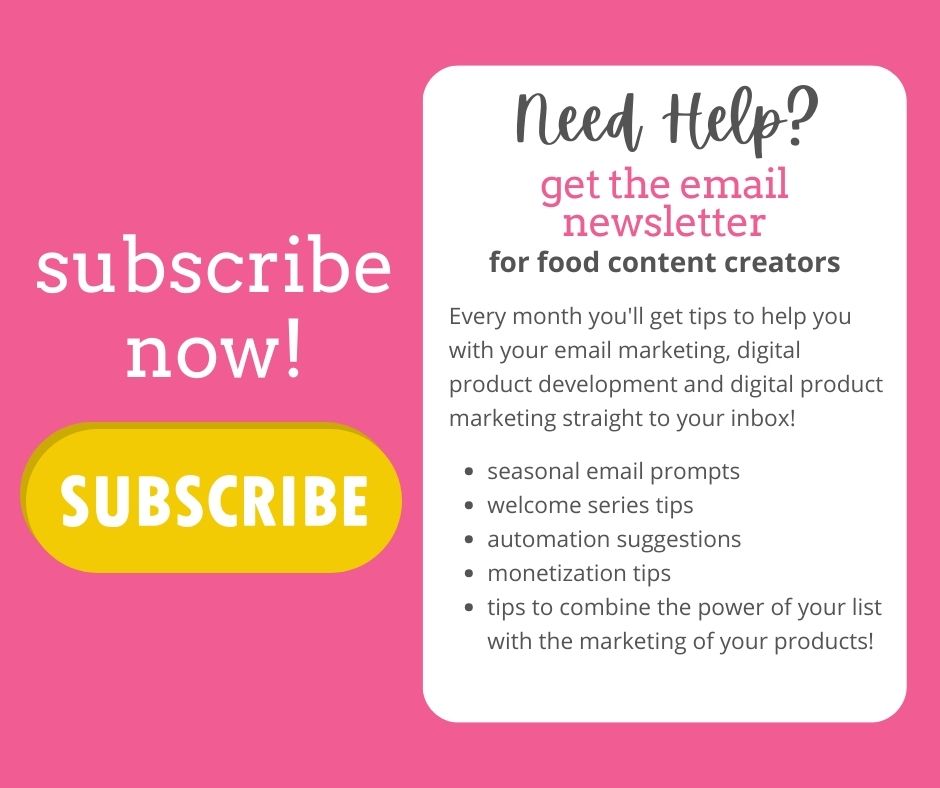 Want more email tips? Subscribe to my monthly newsletter! Each month I write an exclusive newsletter full of tips, tricks and ideas for food content creators and their email lists!
PIN FOR LATER
MORE EMAIL NEWSLETTER IDEAS