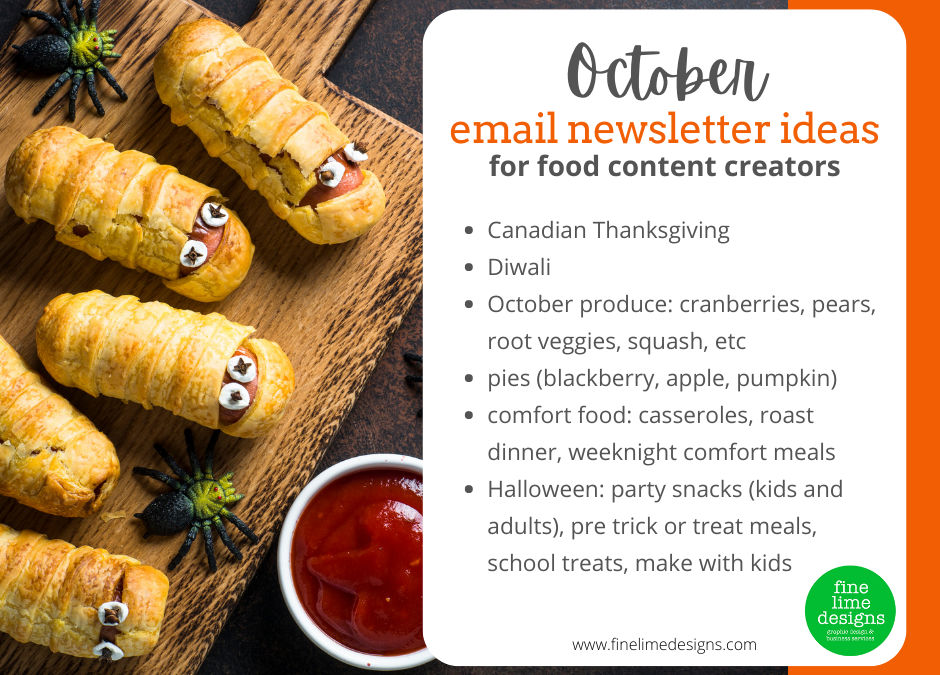 October is just the start of the busy holiday season. Work ahead with these October email newsletter ideas for food bloggers and food content creators.
October is where things in the food blogging world really start to get busy! Yes, Halloween is a big celebration and people start planning early for that. Now is the time to be sharing that Halloween content in your newsletters.
But… don't forget some other really important dates.
Canadian Thanksgiving
If you have a sizable Canadian audience, don't forget, Canadian Thanksgiving is actually one of the first major food holidays on the fall calendar. It's always the second Monday of October.
Diwali
Diwali – or the festival of lights – is another holiday to look out for – it changes from year to year (while it is a multi-day festival, the main date this year October 24th) but it's one of the biggest holidays in Indian culture and many people of Indian descent in North America will be celebrating!
Sports!
October is a big month for spectator sports. It's the start of the NHL and NBA seasons, the NFL and college football are underway and it's the run up to the World Series. That leads up to tailgate season, entertaining around televised sports and… snacks!
Halloween
And of course, that leads us to the big one: Halloween. Every year it seems to be bigger than the last! People are planning parties, sending treats to school and trying to figure out what to eat for dinner (and when to eat it) on the big day… how can you make their lives easier?
Focus On Your Email Audience
How you proceed with your emails for October will depend on your audience. You know them better than anyone else. Remember that your email audience may be different from the audience that finds you through search.
Focus on what your newsletter subscribers respond to. If you have the data available in your newsletter marketing platform, look at which content they responded to last fall. Then create newsletter content that's a good fit. If your audience doesn't care about sports, skip the sports content!
October Email Newsletter Ideas for Food Content Creators
Canadian Thanksgiving
Diwali
Sports themed appetizers and party food
Tailgating ideas
Comfort Food

casseroles
roast dinners
hearty soups
pastas
fast and easy weeknight comfort food

Seasonal October produce:

cranberries
pears
root veggies
squash and pumpkin
apples

Pies
Now's the time to get started. Plan out your October newsletter calendar and batch write your emails. Schedule them and you're good to go!