November brings us into the heart of Q4 and there is an wealth of email newsletter possibilities for food bloggers and food content creators as people are not only looking for Thanksgiving ideas but they're also starting to prep for Christmas and other December holidays.
As I've mentioned in previous newsletter idea posts, a lot of food content creators up their email send frequency as we get into Q4 – especially if their audience is focused on baking or entertaining. It's a great way to give your traffic an additional boost through the season where RPMs tend to be at their highest.
This month, don't forget Black Friday/Cyber Monday!
If you have products – digital or physical – plan your promotions and the emails and social media content to go with them now! Get it done and scheduled to make your life easier.
SEASONAL HOLIDAYS & IMPORTANT DATES:
Diwali: November 12 (this is actually a 5 day festival)
American Thanksgiving: November 23
Black Friday: November 24
Cyber Monday: November 27
AMERICAN THANKSGIVING:
Turkey: all things turkey – how to cook one, how to brine it, smoke it, air fry it, slow cook it, defrost it, stuff it, or cook it in the instant pot. Don't forget leftovers for the week after Thanksgiving
Side Dishes: turkey's great, but for many, it's all about the side dishes. If you're a niche blogger, dive in here with dairy-free, gluten-free, vegan, vegetarian, keto-friendly etc
Dessert: all things pumpkin and a lot of pie!
Turkey Alternatives: turkey isn't for everyone. Vegans, vegetarians and small families are looking for other options
Friendsgiving: If you've got Chandler Bings in your life, you know what I'm talking about!
Leftovers: anything that helps use up leftovers and avoid food waste
Entertaining & Decor Ideas: y'all… pumpkin centerpieces are so flipping popular this year! Centrepieces, tableware and decor, cocktail presentation, appetizers, DIY tutorials etc
If you're not American, you can start moving into Christmas and/or Hanukkah content. A lot content this time of year can double for Thanksgiving and the holidays: appetizers, sides, cocktails, baking etc.
SPORTS:
Thanksgiving is a big football holiday. Pull out your game day recipes: snacks, dips, wings, finger foods, chili – all the favourites!
**Don't forget to add in vegetarian and vegan options as well as some alcohol-free beverages – all of these are continuing to grow in popularity and it's rare to host a gathering these days that doesn't include meat and alcohol-free guests!
COOKIES, BARS, CANDY AND FOOD GIFTS
There are things that everyone starts planning for early and they include:
their annual cookie platters
cookie swaps (bars are often included in these)
homemade gifts from the kitchen: candy, jarred baking and beverage mixes, jams, jellies and more
holiday baking: fruit cakes, bars, pies and other seasonal items that can be baked ahead of time
Start dripping out recipe content for these in November. I'd start the first week!
You can also do related email content:
how to host or plan a cookie swap
how to create a cookie platter to gift
how to create your own labels for jams and jellies or boxed candies
how to package food for gifting (or shipping!)
baking pantry checklists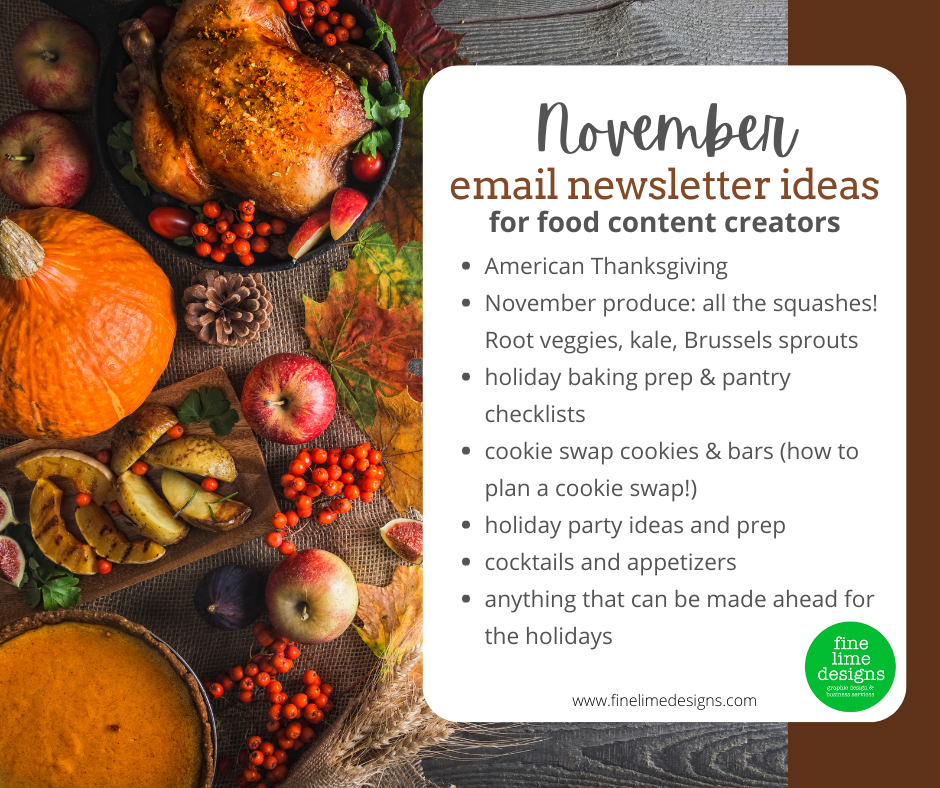 HOLIDAY ENTERTAINING
People start planning early! They are pinning content so make sure to include some easy "pin now" button in your emails for recipes they might like to save for later.
party prep
party ideas
decor
appetizers
cocktails
open houses and buffets
Think of ways you can put a spin on these for your audience:
budget-friendly
vegan or vegetarian
non-alcoholic
prep and make ahead
hosting gifts
NOVEMBER SEASONAL PRODUCE:
all the squashes!
root veggies: carrots, beets, potatoes, turnips, parsnips etc
kale and other hearty greens like swiss chard
Brussels sprouts
cranberries
pomegranates
citrus season begins
cabbage
apples and pears
TAILOR YOUR NOVEMBER NEWSLETTER CONTENT FOR YOUR EMAIL AUDIENCE
As always, these are ideas to help you brainstorm. Adapt them to fit your audience and your niche, which you know better than anyone else.
Remember that your email audience may be different from the audience that finds you through search.
Focus on what your newsletter subscribers respond to. If you have the data available in your newsletter marketing platform, look at which content they responded to this time last year. Then create newsletter content that's a good fit. If your audience doesn't care about sports, skip the sports content!
Now's the time to get started. Plan out your November newsletter calendar and batch write your emails. Schedule them and you're good to go!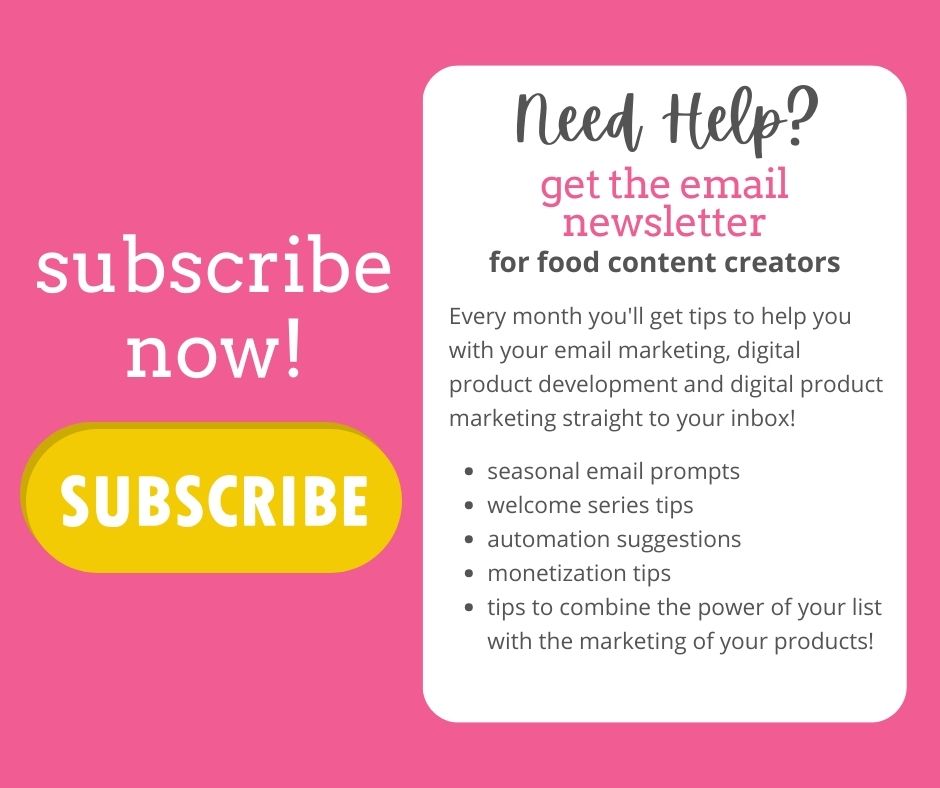 Want more email tips? Subscribe to my monthly newsletter! Each month I write an exclusive newsletter full of tips, tricks and ideas for food content creators and their email lists!
PIN FOR LATER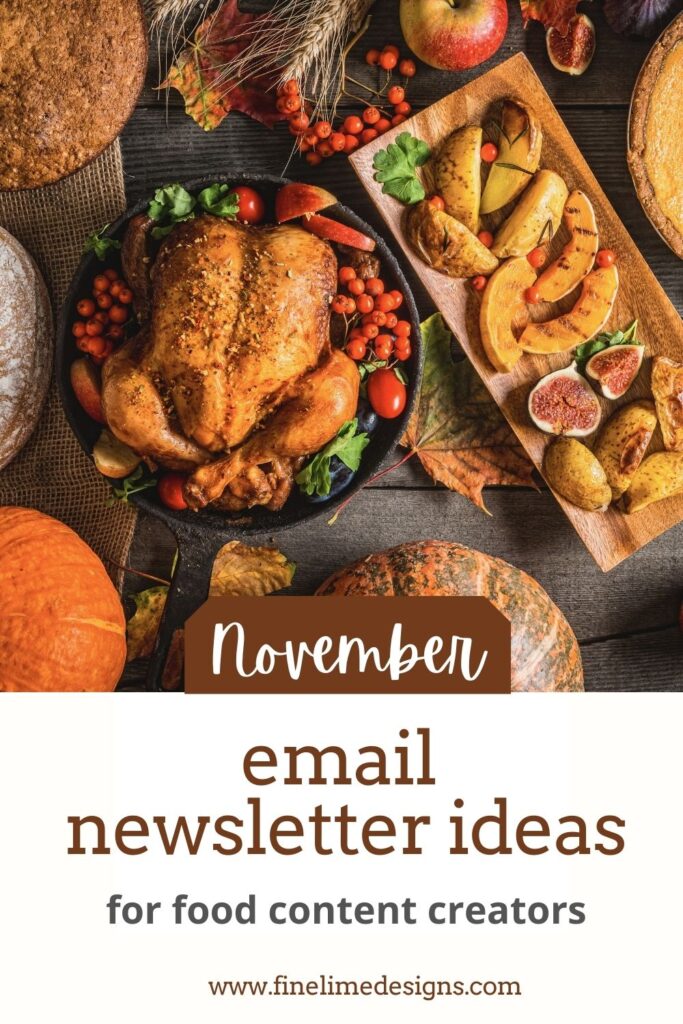 MORE EMAIL NEWSLETTER IDEAS