For food bloggers and food content creators, August email newsletters can be a little challenging. Not because of a lack of content but because we're bridging two very different seasons.
August is an awkward month for food content emails. We're in the heart of summer vacation and the hottest weather of the year but at the same time, back-to-school is right around the corner. In many parts of the US and eastern Canada, kids go back to school as early as mid August.
So… some people are looking for back to school content and others aren't even opening their emails as they soak up their last few days of freedom.
Much of July's content suggestions, particularly canning and preserving, outdoor entertaining and cool kitchen ideas are still relevant for August (get the full July list here)
SEASONAL HOLIDAYS:
Labour Day (the first Monday in September), other civic holiday long weekends
one last kick at the can for summer – this is a popular weekend for having friends over and entertaining outdoors. For many people this is their second New Year's Eve as school and regular work routines resume after the weekend and summer unofficially comes to a close
SEASONAL FOOD & CONTENT:
It's stone fruit season!
blackberries with raspberries and blueberries at the tail end of production
stone fruits: apricots, nectarines, peaches, plums
pears and grapes in some areas (September for others)
while many fruits are at the tail end of their summer production, most are still available in August with cranberries, apples and rhubarb being the exceptions.
almost all vegetables. Squash is just coming in, potatoes, tomatoes, green beans, corn and carrots are all flourishing. It's actually easier to list the veggies that aren't available yet! Asparagus has long since finished and pumpkins, red and yellow onions and Brussels sprouts are still a month away.
canning and preserving are at their height (see July for more suggestions)
keeping the kitchen cool is still a priority (see July for more suggestions)
road trip and outdoor entertaining content is still relevant (see July for more suggestions)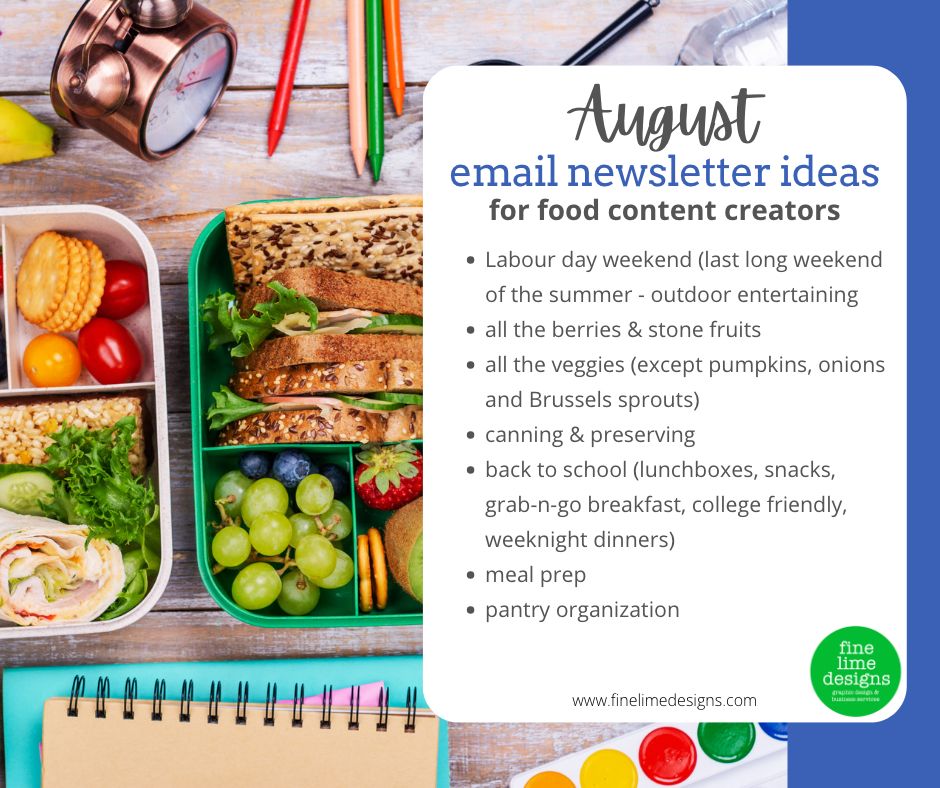 BACK TO SCHOOL:
Depending on where you live, kids go back to school in late August or after Labour day weekend in September. University and college kids mostly go back after Labour day. Start dripping out content in late August but keep this list handy as you plan September as well. Here are a few to get you started:
lunch box ideas

allergy friendly (peanut-free in particular!)
eco-friendly packaging ideas
budget friendly (10 lunchbox ideas that cost less than $X)
hot lunch ideas (and how to keep them hot)
lunch box sweets and homemade treats
making lunch box veggies exciting

after school snacks

quick and easy
fuel for sports or activities
quell the pre-dinner munchies

grab-n-go breakfasts
easy breakfasts ready in 10 minutes or less
budget friendly cooking tips for college kids
dorm friendly meal ideas or dorm friendly foods
cooking basics for kids on their own for the first time
weeknight dinners

30-45 minutes or less
one pot meals
10 ingredients or less

meal prep and batch cooking
foods that fuel study sessions or help with mental focus
how to avoid the morning breakfast/lunchbox prep crunch
tips on getting your kitchen and pantry organized for meal prep and back to school.
As always, these are suggestions – adapt them to fit your niche and your audience.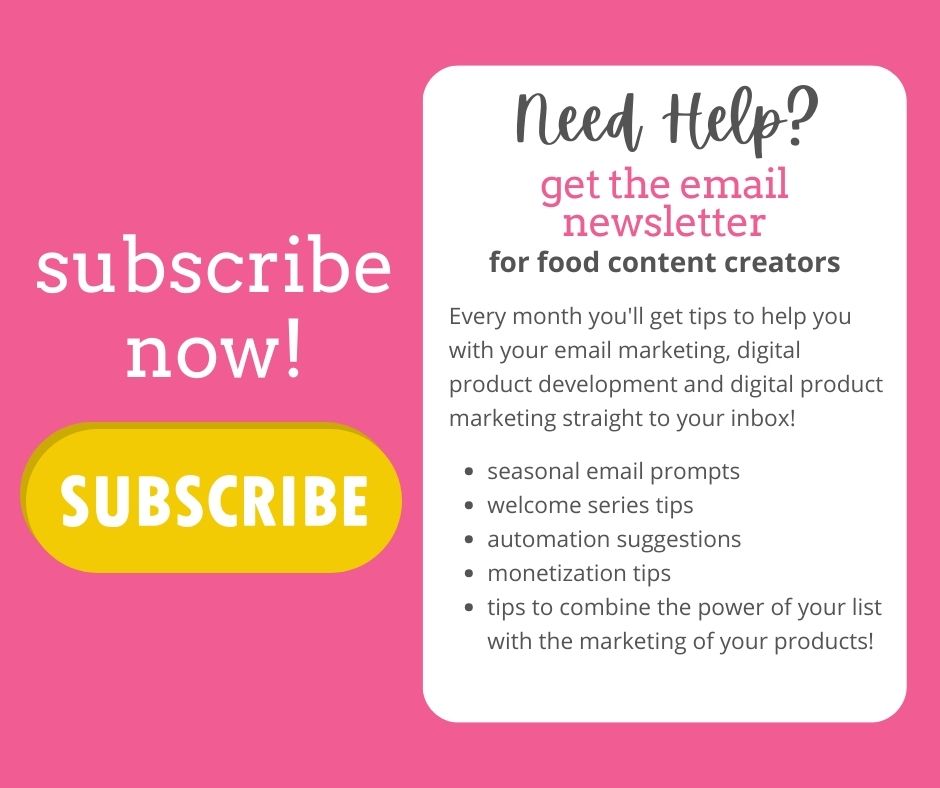 WANT MORE TIPS?
Want more email tips? Subscribe to my monthly newsletter! Each month I write an exclusive newsletter full of tips, tricks and ideas for food content creators and their email lists!
PIN FOR LATER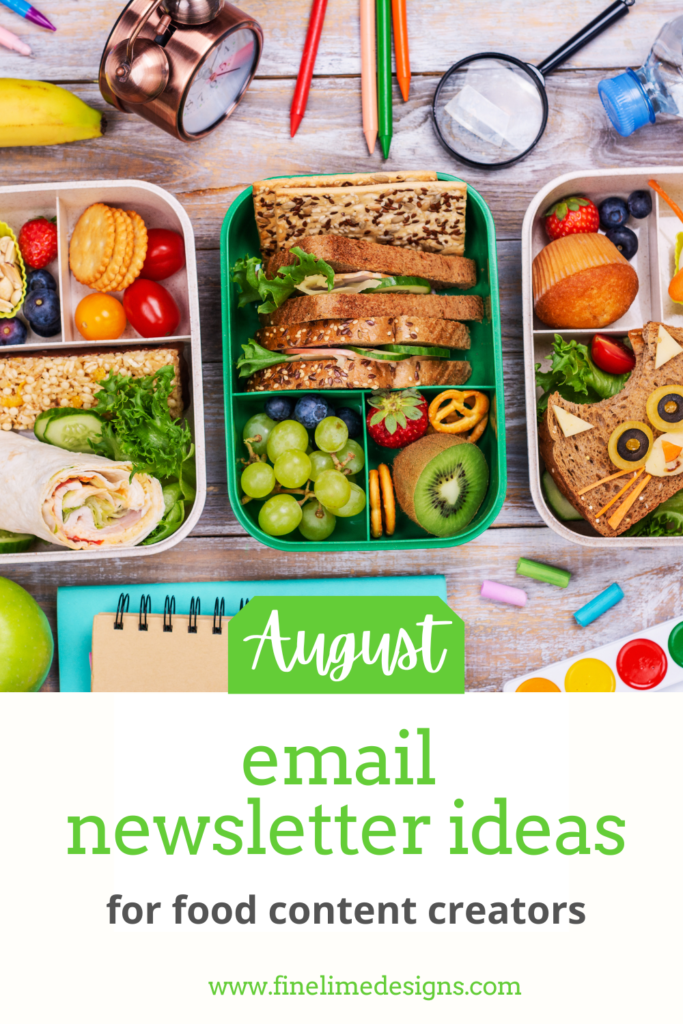 MORE EMAIL NEWSLETTER IDEAS