February is all about Valentine's Day. Work ahead with these February email newsletter ideas for food bloggers and food content creators.
However you feel about Valentine's day, there's no escaping it when you're a food content creator! There's just not that much going on in February. We're still well into winter in the northern hemisphere with few options for seasonal produce and the busy food holiday season behind us.
But, there are other things put in your emails and you can write about Valentine's day in a way that works for you and your audience.
Valentine's Day
There are multiple ways you can write about Valentine's Day when it comes to food.
Make it about the kids – focus on school treats or a special dessert or movie night at home
Create Valentine's day dinner menus from your recipe catalogue

family dinners
decadent romantic dinners for two
budget friendly romantic dinners

Chocolate – desserts, how to make your own, making them together, taking a class
Wine pairings – for that dinner menu you created above! Or how to set up a tasting at home
Galentine's day – a great alternate take on Valentine's day. How to throw a girl's night party and all the food the goes with it
The anti-valentine – if Valentine's day is really not you thing, embrace that too. You can talk about that with your readers and what you do instead (if anything) I guarantee you'll have some agreeing with you!
Budget Conscious Content
Groceries are expensive right now and, according to recent projections, they're not going to drop in price any time soon. You don't have to be a budget-friendly content creator to see that.
Incorporate that into your content in whatever way fits your audience: ingredient swaps, minimizing food waste, tutorials, shopping tips, pantry planning. It might be as simple as just acknowledging that you recognize shopping is challenging for a lot of people right now.
Pantry Challenges
In a similar vein to budget conscious content, pantry challenges can be a great option this time of year when seasonal produce isn't amazing.
Focus on recipes that use canned foods, frozen foods and pantry staples
challenge readers to "shop their pantry"
talk about the importance or rotating food to avoid waste – February is a great time for a pantry cleanup
using the food in our emergency kits and restocking them (more food rotation)
What's in Season:
citrus
kale
cabbage
leeks
pineapple
mushrooms
forced rhubarb
root veggies
Now's the time to get started. Plan out your February newsletter calendar and batch write your emails. Schedule them and you're good to go!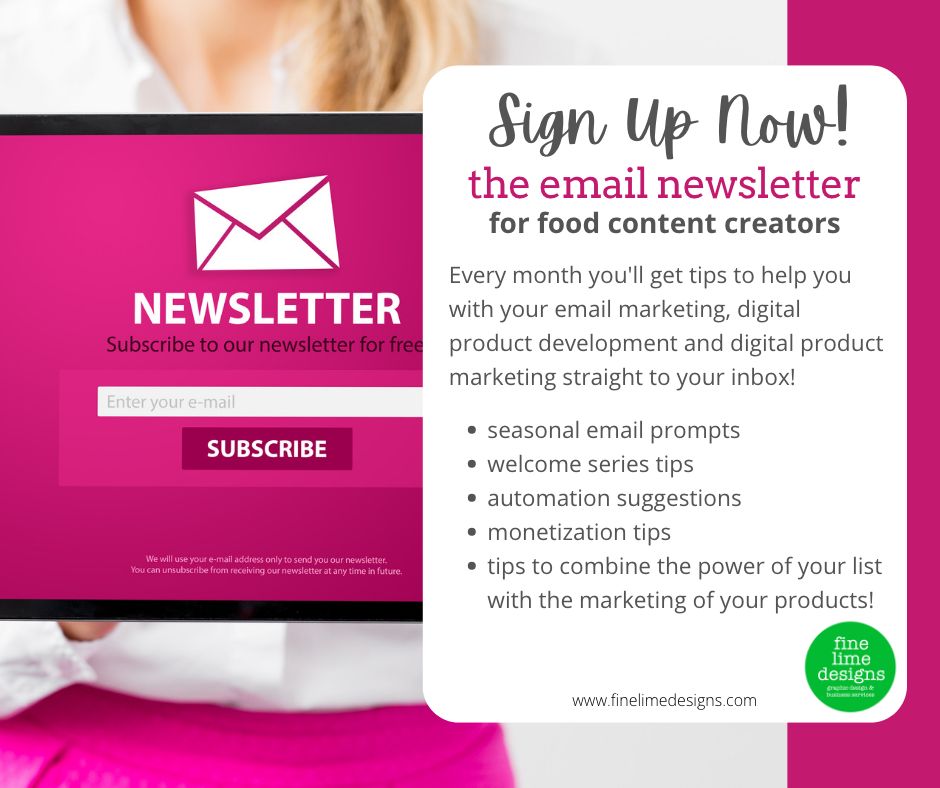 Want More Tips?
Want more email tips? Subscribe to my monthly newsletter! Each month I write an exclusive newsletter full of tips, tricks and ideas for food content creators and their email lists!