There are so many delicious options to write about in your July email newsletters! If you're a food bloggers or food content creator, the hard part will be narrowing down those options. So let's get writing!
July is another bumper month for content. Many of the ideas I shared in June cross over into July (and I'll recap a few here but for the full list check out June Newsletter Ideas for Food Bloggers)
SEASONAL HOLIDAYS:
Canada Day (July 1) and Independence Day (US – July 4)
grilling recipes, potlucks, BBQs, picnics
red and white food (Canada Day) or red, white and blue food (July 4): make the most of seasonal strawberries, cherries and blueberries
Canada Day or July 4 menu ideas for a grilling night, potlucks, appetizers etc
SEASONAL FOOD:
Summer produce is in full swing!
tail end of strawberry season in many places
raspberries, blueberries, gooseberries, Saskatoon berries, haskap berries
stone fruits: cherries and apricots with peaches arriving in late July in some areas
melons
veggies: peas, green beans, tomatoes, peppers, broccoli, cauliflower, salad greens zucchini, radishes, swiss chard, corn, new potatoes
canning, preserving and freezing – don't forget jams and jellies!
pie
summer cocktails, mocktails and other iced drinks
grilling recipes
seafood
frozen desserts (popsicles, ice cream, gelato)
no-bake desserts
potluck and picnic dishes
homemade BBQ sauces, spice rubs and marinades
air fryers and instant pots as ways to cook and keep the kitchen cool
dishes best served cold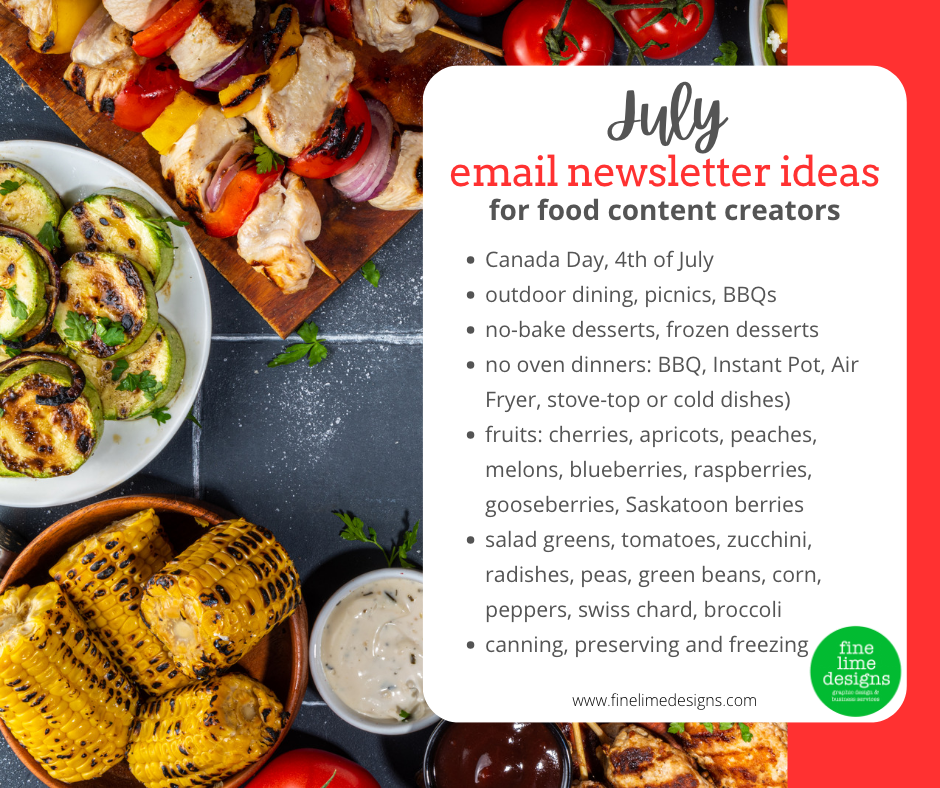 KEEP THE KITCHEN COOL:
Nobody wants to turn on an oven in July or August – unless it's an outdoor pizza oven! Think make ahead meals, dishes best served cold or household appliances that don't generate much heat:
potato and pasta salads
cold proteins (cook in the morning and serve in the evening): cold chicken, ham
fresh fruit and veggies with light, bright dressings
no-bake desserts
Instant Pot, Air Fryer and BBQ or propane grill recipes
** Note that in many areas as wildfire season is in full swing, any kind of outdoor flame may be banned
CANNING AND PRESERVING:
Gardens, farmer's markets and farm gate sales are now in full on production mode with entire flats of fresh fruit and produce available for sale. And that means it's canning, preserving and freezing season!
basic equipment
different types of preserving
basic safety precautions and preserving techniques
jams and jellies (unique flavour ideas are big right now!)
salsas, pickles, pasta sauces
ROAD TRIPS & ENTERTAINING:
There are still opportunities to focus on outdoor cooking and entertaining. But don't just focus on grilling! This time of year people are cooking on portable camp stoves, charcoal BBQs, over campfires, in RVs, on the beach or at their Air BnB. And they're eating while moving!
Also think about pool parties, outdoor movie nights, picnics, impromptu neighbourhood get togethers, sports tournaments – anywhere people are gathering, they'll want food and cold drinks.
BACK TO SCHOOL:
This one is a little wild for me as back to school here is always after labour day in September but, a lot of areas go back as early as August. I'll have more ideas for this next month but have it on your radar and start planning your BTS content for all your platforms.
This is just a smattering of ideas – take them and run with them. Shape them to fit your niche and content. The hardest part about June and July is narrowing it down to a few topics.
Now's the time to get started. Plan out your June newsletter calendar and batch write your emails. Schedule them and you're good to go!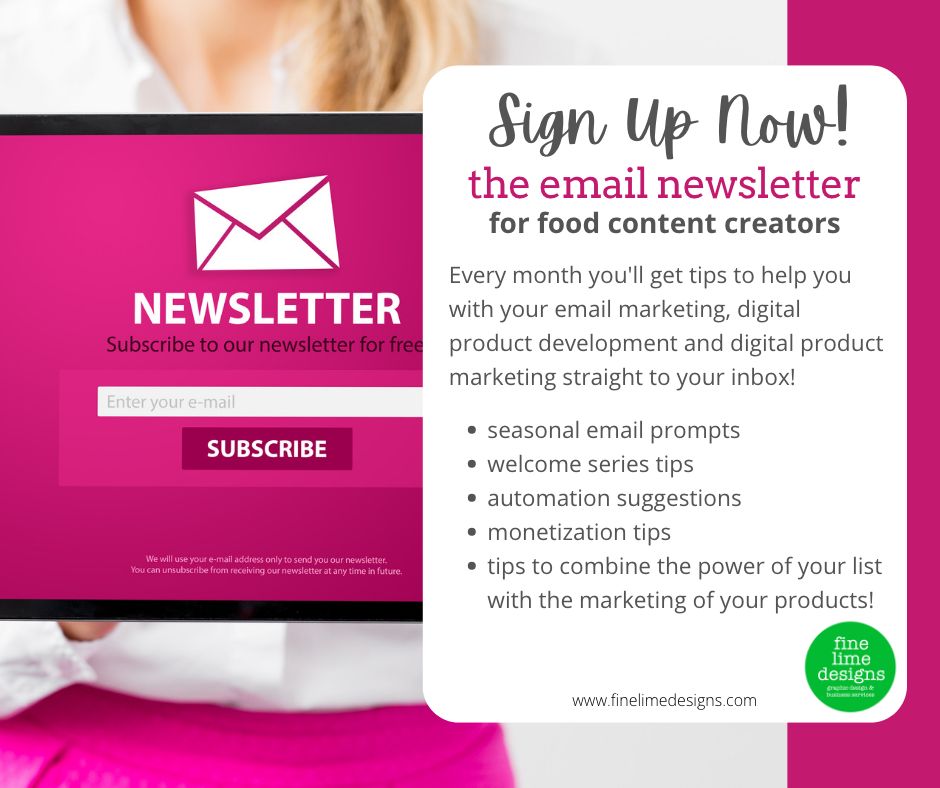 Want More Tips?
Want more email tips? Subscribe to my monthly newsletter! Each month I write an exclusive newsletter full of tips, tricks and ideas for food content creators and their email lists!
Pin for Later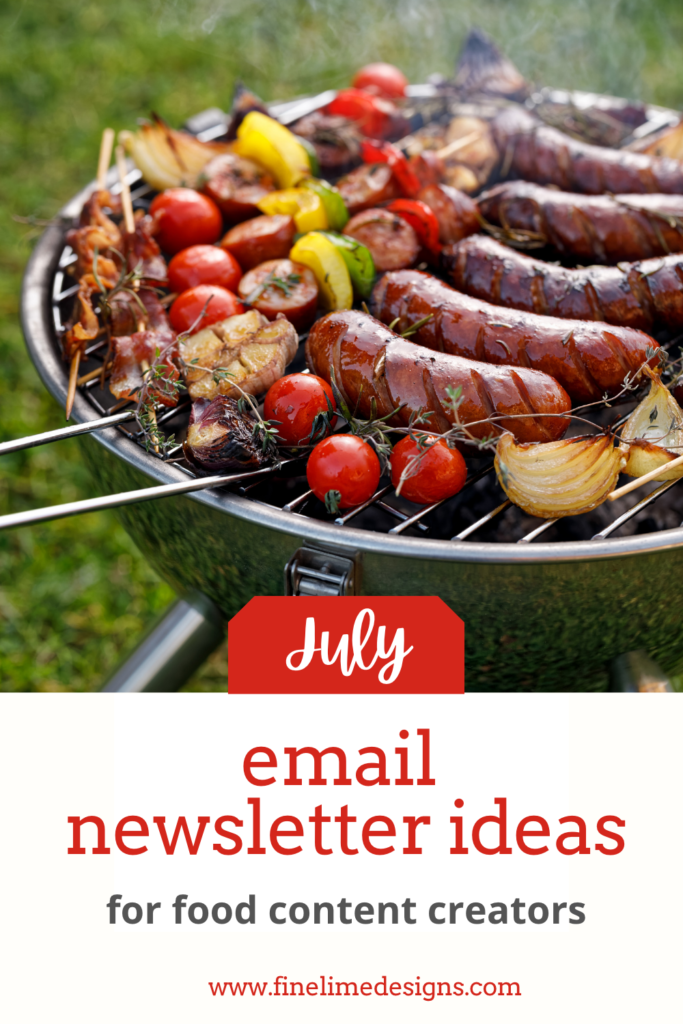 More Email Newsletter Ideas