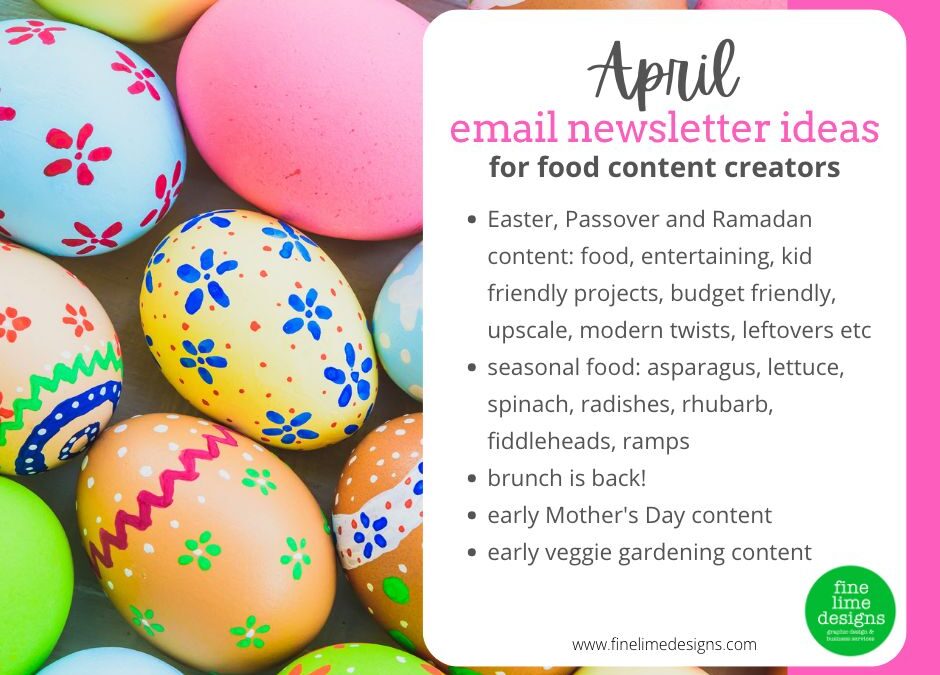 April is the time of year where we really start to see the first fresh, local produce start to make an appearance. Team that up with Easter, Passover and Ramadan and there's no shortage of April newsletter ideas for food bloggers and food content creators.
April offers up a wealth of content ideas for your email newsletters so now is the time to start writing and scheduling so they're all ready to go next month.
SEASONAL HOLIDAYS:
Easter, Passover and Ramadan are all prominent holidays taking place in April (Ramadan actually starts on March 22nd) each with their own unique food based traditions. That means lots of content ideas!
the food!
entertaining – small groups, large groups, casual, budget friendly, upscale, planning and prepping
kid friendly projects
classic traditions
modern twists on tradition
don't forget leftovers!
SEASONAL FOOD:
April can be a wild ride depending on where you live and how angry winter has been! Not all of these foods will be in season everywhere just yet (but they're coming!)
asparagus
lettuce – a wide variety
spinach
radishes
rhubarb
fiddleheads
ramps
greenhouse produce: tomatoes, cucumbers, sweet peppers and strawberries
BRUNCH IS BACK!
Early spring means brunch is back and patios are opening up – maybe even the one in your back yard! Start putting those brunch recipes and entertaining ideas out there
EARLY MOTHER'S DAY:
People plan ahead for Mother's Day in North America so it's appropriate to start dripping content out in late April newsletters:
brunch and lunch
afternoon tea
cakes, pastries and desserts
outdoor dining
dinner menus
prep ahead
EARLY VEGGIE GARDENING:
Veggie gardening is food content and more and more people are interested in growing their own food! There is interest in small space gardening, container gardening and full scale backyard growing… and what they can cook with their new bounty!
Now's the time to get started. Plan out your April newsletter calendar and batch write your emails. Schedule them and you're good to go!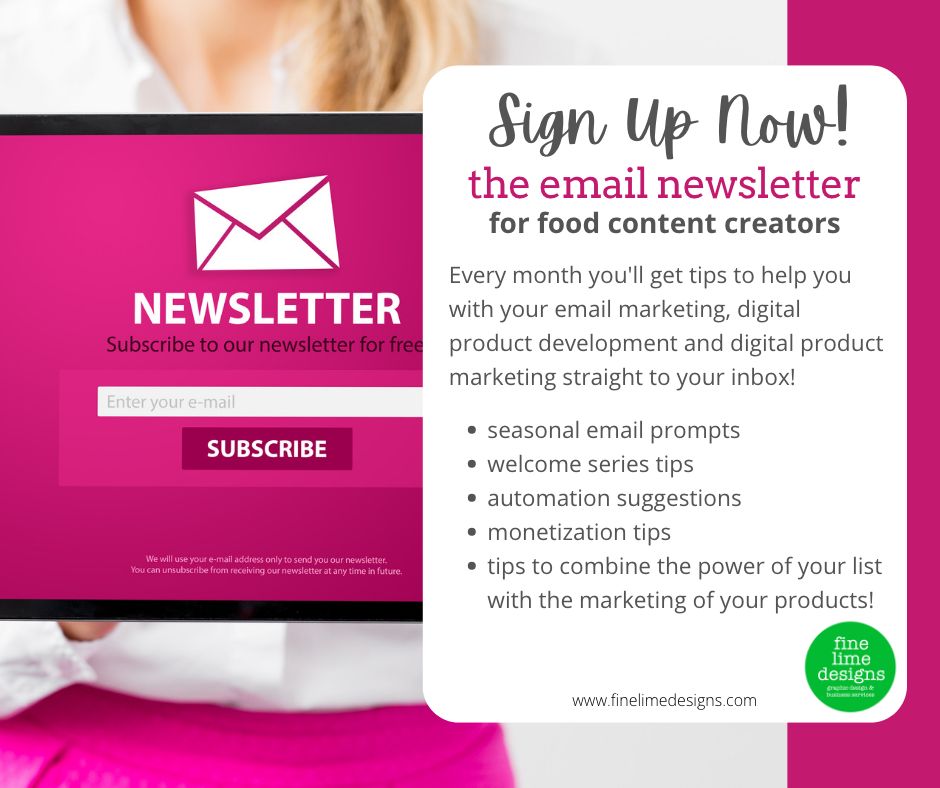 Want More Tips?
Want more email tips? Subscribe to my monthly newsletter! Each month I write an exclusive newsletter full of tips, tricks and ideas for food content creators and their email lists!
---
More Email Newsletter Ideas